Three Equity Bank staff charged over Sh30m theft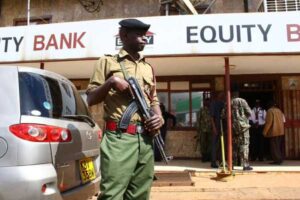 Three Equity Bank employees have been charged over the theft of Sh30 million from the Othaya branch last Friday.
The Othaya branch operations manager, an accountant and a cashier have been charged with theft by servant.
Last week, three men posing as auditors raided the bank and walked away with Sh30 million.
They had fake staff identification cards.
They are alleged to have entered the bank at around 6am through the rear entrance and told the branch deputy manager that they had been authorised to carry out auditing.
Sources said they were armed with a knife. They ordered the deputy branch manager to open the safe and stole the money.
-nation.co.ke