VIDEO:'CCM Lorry' Nabbed Ferrying Stuffed Ballot Boxes in Tanzania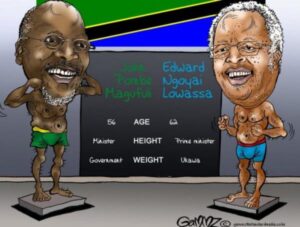 The Presidential race was hotly contested between former prime minister Edward Lowassa of Chama cha Demokrasia na Maendeleo (CHADEMA) and John Magufuli of  Chama Cha Mapinduzi (CCM), former minister in the previous government.
Chadema, the official opposition party has faulted the National Electoral Commission for widespread rigging in the presidential polls.
The tension surrounding the results worsened when a lorry ferrying stuffed ballot boxes was nabbed. It is alleged the stuffed boxes belong to CCM.
– nairobiwire.com