VIDEO:Kidero renames road Jakaya Kikwete in honour of Tanzanian president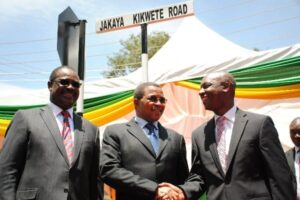 Tanzania's President Jakaya Kikwete was honoured with the naming of a road on the second day of his state visit to Kenya.
The president paid a courtesy call on Nairobi governor Evans Kidero at City Hall on Tuesday, before proceeding for the opening of the Jakaya Kikwete Road, formerly Milimani Road.
"When the President said you were visiting, we consulted if we can rename this road, and being good friends, he accepted. As you can see, it leads straight to his gate," Kidero said.
The Tanzanian president also got an official key that will allow him access to any part of the county after his retirement in two months' time.
Kidero said the friendship between President Uhuru Kenyatta and Kikwete had contributed to economic growth and trade partnerships between the two countries.
The governor said Nairobi will continue to support and welcome more investors from Tanzania, to strengthen partnership ties.
Kikwete said Nairobi remained a key economic hub and called on east African countries to sign more trading partnerships that would enhance economic growth to boost living standards.
"For the time I have been the Head of State of the Republic of Tanzania, with my friend Uhuru, we have experienced a 40 per cent trading growth between the two countries. As a matter of fact, 90 per cent of East African Community trading happens in the two countries," he said.
Kikwete, who is visiting the country for the second time as a head of state, said he would lure more investors since he will visit the country frequently.
"I will always remember this gesture of partnership and cooperation you have shown me. This such an amazing time to have left my home country to share my last moments in leadership with such great people in a great city."
– the-star.co.ke