Video:Why Raila has agreed to testify in DP Ruto's ICC case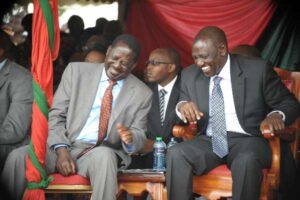 Cord leader Raila Odinga has questioned the calls by a section of Jubilee MPs to testify for Deputy President William Ruto in his ongoing case at the ICC.
Raila said during a rally over the weekend that on several instances in the past, he has said he is willing to testify in the case against his former deputy in ODM.
"I have stated in the past that I am willing to testify on behalf of Ruto, that ODM was not in any way involved in planning any violence in the 2007/2008 period or any period at all," Raila said.
Raila however gave conditions for he said must be met before he gives his testimony to clear Ruto of the crimes against humanity charges he if facing at the Hague-based court.
The former premier, in statement from South Korea, said his testimony in Ruto's support will not assist the DP, "so long as the false testimony procured against him by the PNU brigade remains on the record at The Hague".
He insisted that President Kenyatta holds the key to what he calls setting Ruto free from the ICC.
"The only people who can recant, disclose and withdraw the false testimony against Ruto are President Kenyatta and his PNU brigade. The freedom of Ruto is therefore in the hands of President Kenyatta. He is the one with the key to his deputy's freedom," said Raila.
Raila also asked President Kenyatta to order the National Intelligence Service to withdraw evidence given to the Waki Commission, especially confidential exhibits 19 and 19A of the Waki Report. He said the exhibits contain evidence wrongly incriminating Ruto.
The Star Newspaper's senior political news reporter David Mwere, shares his insights on why Raila may have publicly decided to offer his testimony in favour of Ruto despite a protracted war of word over the ICC case in the run-up to the 2013 general election and thereafter.
– the-star.co.ke