Caroline Mutoko Responds to Robert Alai's Scathing Attack that She Stole a Baby From Hospital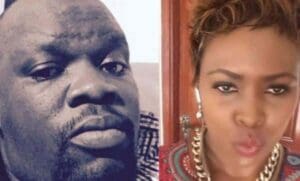 Controversial blogger Robert Alai has probably been left red faced after launching a scathing attack on Caroline Mutoko that the latter has impressively brushed off.
The social media conflict between the two started when Caroline Mutoko penned an article on The Star column titled Uhuru – Give Heaven Something To Work With. In the article, the former radio presenter amidst urging President Uhuru Kenyatta to take charge of the country, also criticised the opposition for being clueless and for not being a viable option to run this country.
That must have rubbed Robert Alai the wrong way as he took to his Facebook page to launch a bitter onslaught. Among the many allegations levelled by the blogger, Caroline was accused of stealing her baby from a hospital.
This was his post;
These insults and personal attacks devoid of facts, figures and evidence are what earned CAROLINE Mutoko a board appointment. When someone goes ad hominem, it's when they are running low of facts to present an intellectual argument.
But let's be fair, CAROLINE Mutoko has never been known to be factual and realistic. She thrives on shallow penetration and bellow the belt operation. Don't ask me to expound. That's why despite regular penetration by P akia ang'oa, she couldn't give birth and had to steal a baby from an hospital.
CAROLINE Mutoko, there are Harvard level arguments. You can go to restaurants near Harvard and engage in all manner of porn watching but people will always know that you didn't get into Harvard when you still present such arguments to deliver points.
What has Caroline Mutoko created? You survived at and only at Radio Africa because PQ could only settle for the pathetic you. I see no hope a better Kenyan media when people can't trust their brains. Caroline Mutoko, I am happily a Raila sycophant. Die bitch!! Die!!
To which Caroline Mutoko responded by taking the high road.
She wrote;
It has come to my attention that a lot of nasty things are being said about Robert Alai this morning. This simply must stop.
Robert Alai Onyango is a lovely gentleman of very clear passions and astute thinking. I'm sure whatever he had to say about me can only be commendable, pretty, flowery and wonderful.
Anything else can only be the result of a hack on his account or a
creation of malicious people trying to taint Alai's image.
I do know that he thinks of me, and speaks of me often and in glowing terms;-) Robert – here's a Kiss and a smile to assure you that I don't believe the nasty things being said about you. Watasema, kisha watalala. Don't be troubled.
– nairobiwire.com