EXCLUSIVE PHOTOS: FLAMBOUYANT MP LETS HIS CHILDREN PLAY WITH GUNS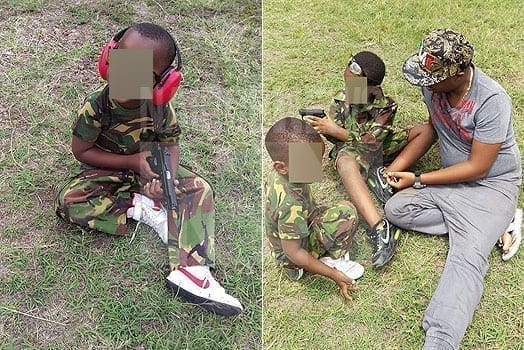 Embakasi West Member of Parliament George Theuri recently posted shocking photos and a video of his wife and their two young sons holding a pistol during a family outing.
The photos show the two children dressed in camouflage gear, while their mother wears a knee-length black dress and heeled shoes.
A scene from the video shows the MP's youngest son running for cover as his mother shoots at a target. The frightened child is seen blocking his ears from the shattering sound of the fired pistol.
The family took the photos and video during an outing in what appears to be a shooting range.
The MP posted the shocking pictures and video on his Facebook account last week, but deleted them within hours. Nairobi News has however managed to obtain the photos.
In the photos, the MPs' sons are seen smiling while holding and pointing a pistol. His wife is also seen taking aim and shooting at a target with the help of a supposed trainer.
"Never mess with Cynthia Gitonga," the MP captioned the video of his wife towards the end.
The youthful first-time legislator is no stranger to controversy. In September, he was forced to apologize to his constituents for an "offensive" post while responding to a query from a resident of Umoja estate.
The MP also has the dubious reputation of having the highest number of billboards bearing his name for all development projects he has initiated in the constituency
-nairobinews.nation.co.ke