I was not invited to State House meeting with Uhuru, claims Sossion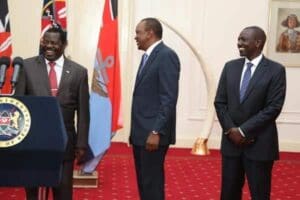 Confusion clouded Knut negotiations with President Uhuru Kenyatta after Wilson Sossion claimed he was not invited to the meeting at State House on Tuesday.
The secretary general failed to attend talks between Uhuru and the union saying; "I was not aware of the meeting, I am the holder of the seal of the union".
Sossion told the Star on Wednesday he could not talk about a meeting he did not attend, adding he had not been briefed on what transpired.
It is believed that after the Court of Appeal thwarted the teachers' pay rise, Sossion was of the view that the union "move to the Supreme Court and not negotiate with the government".
The secretary general had earlier said the Trade Union Congress of Kenya would campaign against the Jubilee government, which he claimed was keen on arm-twisting workers.
But Knut chairman Mudzo Nzili said Sossion was well aware of the meeting as "we were together when we received the call from State House".
Nzili said they agreed no teacher will be victimised over the strike, adding Knut is ready to "submit to the conditions" of the negotiations. He urged the TSC to show its gratitude.
Uhuru held the meeting with representatives of Knut and the TSC in a bid to avert future strikes. He urged the TSC to consider paying all teachers their salaries for the month of September when they went on strike for five weeks.
Negotiations for a new CBA are pegged on the dropping of all cases pertaining to teachers' pay that are before court.
This could see Knut and Kuppet drop an appeal challenging a court ruling on November 6, that termed a salary increment awarded to teachers as illegal.
On June 30, the Employment and Labour Relations court ordered TSC to effect a 50 – 60 per cent pay rise following a Collective Bargaining Agreement the two signed in 2014.
Last Friday, the Court of Appeal rejected the pay increase saying the Labour court ignored the Salaries and Renumeration Commission's advice, which pointed out the increment was unsustainable.
Deputy President William Ruto, Education CS Jacob Kaimenyi, Knut treasurer John Matiangi, deputy chairman Wycliffe Omuchei and deputy secretary general Hesbon Otieno also attended the meeting.
– the-star.co.ke