I will neither abandon Ruto nor listen to abusive people, says Uhuru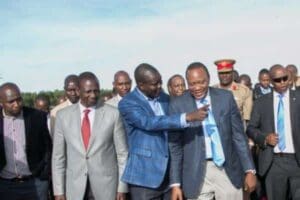 President Uhuru Kenyatta has said he will not abandon DP William Ruto and the Rift Valley region despite opponents' efforts to divide them.
Uhuru further said he will support Ruto to ensure he is absolved of the crimes against humanity charges he is facing at the ICC.
"There are those who have been saying a lot of nonsense to divide us, claiming so and so is fighting so and so, and so many other things they write in the newspapers," he said.
"That is politics of stupidity," he also said, noting the people of Rift Valley supported them and that their opponents should accept they will remain united.
He spoke on Sunday evening after arriving in Eldoret as part of a tour that began in Western.
Uhuru said he will not tire of standing by Ruto until he is freed so they can pursue their development agenda for Kenya.
Referring to next week's ICC Assembly of State Parties (ASP) meeting, he said; "That is why we are going there and telling them we are tired. We want friendly nations to help us take that route."
The President said he will not talk to people who abuse him and his government; on Saturday, former president Mwai Kibaki urged all leaders to listen to each other and cooperate to improve Kenyans' lives.
Highlighting Jubilee's accomplishments, Uhuru said his administration is commmitted to uniting the public, adding this was the reason affiliate parties will merge.
"That is why we are telling those pulling us apart using matters of the past that we want to be allowed to move ahead in peace," he said.
"We will not talk to people whose work is to abuse us every day. If you cannot work with us then wait for your time."
Ruto said he was confident the charges against him would be dismissed.
"Mr President, I want you to know the case imposed on us at The Hague will end. There are those who do business with that case but we believe in a God who does not eat Ugali in anyone's house," he said.
He added; "This region's people are in Jubilee [to stay] because we decided to be united. We are going to form the next government through the Jubilee Party. That is why more than 12 parties have resolved to form one unit."
Uasin Gishu Governor Jackson Mandago and senators and MPs from the region were present.
– the-star.co.ke