Kenyan Woman Brutally Attacked for Not Speaking "American"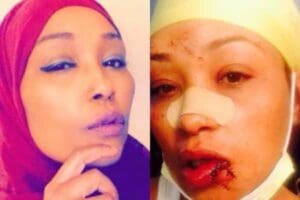 I have been working in Human Rights issues for many years. Never in my life would I imagine having someone close to me become a victim of a hate crime.
On Friday October 30th 2015, Asma along with her friends and their children were dining at Applebees In Coon Rapids, MN. Another patron sitting in another booth overheard her speaking in a foreign language.  She yelled and insulted Asma for not speaking "American". The patron eventually threw a drink at her and smashed Asma's face with a beer mug.
Asma suffered trauma all over her face due to this attack. Her injuries required 15 stitches all over her face with busted lips, cut on top of her eye brow and cuts all over her face.
Asma is currently going through care dealing with her injuries. Any donation received will go directly to her well being.
I know in my heart that Minnesota is not defined by this incident.
Let us stand together against hate and help Asma get back to her feet again.
Thank you so much for your help and we are asking you to share this page with everyone that you know.
Warmly,
Hassanen
–www.gofundme.com/asmamedicalfund.