Mudavadi dismisses Uhuru cabinet reshuffle as dangerous experiment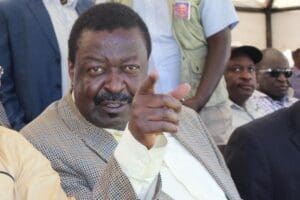 Amani party leader has accused the government of engaging in "dangerous and expensive experiments" by forming an exclusive Cabinet.
Musalia Mudavadi said President Uhuru Kenyatta's decision to increase Cabinet staff was imprudent since the government was "struggling to find money to fund its operations".
"Jubilee has now a bloated Executive with ministries re-named departments and deceptively put under Principal Secretaries," Mudavadi said in a statement on Wednesday.
"The government has shot itself in the foot: it will have no reason to argue there is no money to fund a referendum."
Mudavadi said the government is unable to fund the IEBC to carry out its
constitutional duties of registering voters but "manufactures by-elections which require money by poaching elected MPs".
He said expanding the Cabinet also created double roles as "most of these are functions that should have been devolved to counties".
Mudavadi said the changes did not represent the face of Kenya and likened the new appointments to the Dream Team experiment created under former President Moi.
"The
reshuffle didn't change the platform Jubilee operates on. Players have
merely been substituted and the team remains the same," he said.
"It was
merely an issue of slotting individuals in a pre-determined TNA/URP
line-up."
He further said the Cabinet did not meet "conditional quotas for
regional and gender balance and women of Kenya have lost big".
"The
one-third gender constitutional requirement has been broken. The
original six women have been reduced to five in a Cabinet of
twenty-one," Mudavadi said.
Mudavadi
said the President's appointments must be "interrogated on whether they
meet the requirements of section 130 of the constitution".
The
section requires that the composition of the national Executive shall
reflect the regional and ethnic diversity of the people of Kenya.
He said the reshuffle provides Parliament an opportunity "to do a thorough job of vetting than it did on the first cabinet".
"Scrutiny should not just focus on an individual's integrity and qualifications to hold a docket."
On Tuesday, Uhuru reshuffled cabinet sacking five suspended ministers.
He also increased the cabinet from 19 to 20 and and naming 41 Principal Secretaries.
The President has also increased the number of State Departments to 41.
– the-star.co.ke