Oklahoma man convicted of sex crimes against Kenyan orphans requests new judge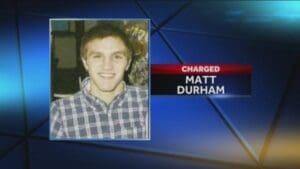 OKLAHOMA CITY (AP) —An attorney for an Oklahoma man convicted of sexually abusing children at a Kenyan orphanage has asked a federal judge to disqualify himself from deciding the man's motions to overturn his conviction and grant a new trial.
The motion filed Friday on behalf of Matthew Durham, 21, of Edmond, alleges U.S. District Judge David Russell has "a deep-seated bias" in favor of federal prosecutors and against Durham and his attorney, Stephen Jones.
In a response filed on Sunday, prosecutors said Russell has not shown any bias that would require him to step aside and that Jones is merely upset that Russell has ruled against him on some issues.
"This court has made legal rulings, some with which the government disagreed and others with which the defendant disagreed. Such rulings are, perhaps, grounds for an appeal, but not reasons for recusal of the trial judge," prosecutors' response says.
A jury found Durham guilty in June of seven counts of engaging in illicit sexual conduct in foreign places. Prosecutors say Durham targeted orphans while volunteering at the Upendo Children's Home in Nairobi between April and June 2014. Jurors cleared Durham of accusations that he had planned to abuse the children before leaving the United States.
Durham was convicted on charges involving girls ranging from 5 to 15 years old and a 12-year-old boy at the orphanage, where he had served as a volunteer since 2012.
Durham is awaiting sentencing. Convictions for engaging in illicit sexual conduct in foreign places can draw prison terms of up to 30 years and a $250,000 fine, though under federal sentencing guidelines terms of imprisonment are often much less.
In his motion to disqualify the judge, Jones alleges "flagrant prosecutorial misconduct plagued this case" and singles out the conduct of the lead prosecutor at Durham's trial, Assistant U.S. Attorney Robert Don Gifford II.
In a separate motion filed last month, Jones complained that Gifford did not turn evidence over to Durham before or during the trial that indicated a key medical witness from Kenya presented false testimony at Durham's trial about physical findings of abuse of the victims. Jones has said the evidence could have helped Durham prepare his defense.
-koco.com