Gunshots, chaos disrupt ODM Homa Bay elections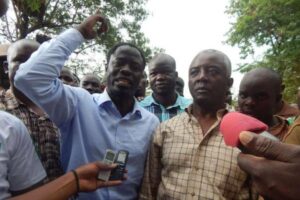 Shots were fired during ODM's Homa Bay grassroots elections on Tuesday after a confrontation between rival camps that differed on lists of delegates.
One person was injured during the fracas between factions allied to county woman representative Gladys Wanga and Homa Bay Town MP Peter Kaluma, who are eying the chairman post.
County police commander John Omusanga said officers had to shoot in the air to disperse the rival groups in the incident at DICECE hall in Homa Bay town.
"We were forced to shoot blanks in the air to quell the tension. The person who sustained injuries is recording a statement," he told journalists.
Omusanga said chaos began as election officials were being escorted to the hall. He said Kaluma's team thought members of Wanga's faction were in the group.
Kaluma and Deputy Governor Hamilton Orata told the press they carried out the raid to prevent the "doctoring of lists" of elected officials.
"We had to [ambush] them because we had information they were trying to interfere with the elections," Kaluma said.
Orata said they want ODM party supporters allowed to elect officials freely and fairly.
"We do now want officials imposed on the supporters. If we allow this to happen we will be interfering with elections and may end up electing bad leaders," he said.
There were chaos in eight constituties where residents primarily support Wanga and Kaluma, after two lists of delegates were released.
It was only different in Kasipul where East Kamagak MCA Samuel Okumu was voted chairman. Nominated MCA Patricia Ouma was elected woman leader and Ebel Obunga youth leader.
Ken Okoth was elected chairman in Kasipul by a faction supporting Wanga.
In Rangwe constituency, Nominated MCA Caroline Owidhi was elected chairperson.
In Homa Bay town, Zablon Were allied to Wanga and Lazarus Obila allied to Kaluma were elected to the chairman post.
– the-star.co.ke