VIDEO:Jubilee MPs tell Wetang'ula to resign over graft claims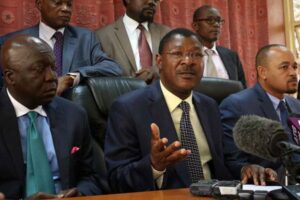 Jubilee Coalition MPs have resolved to petition Parliament to investigate allegations that Bungoma Senator Moses Wetang'ula received favours from British American Tobacco when he was Trade minister.
Led by National Assembly Majority Leader Aden Duale, the MPs also asked Mr Wetang'ula to resign as senator and Minority Leader in the Senate.
"Before the House goes on recess, we'll ask that the relevant committee, during the January committee sittings, to go into this issue. Before tomorrow, I'll write to the relevant committee to take action," said Mr Duale at a press conference on Wednesday.
The revelations have served as a setback to Mr Wetang'ula, who has been at the forefront of campaigns by the Opposition to get the government to account for money spend under its watch.
"The BAT bribery scandal exposed by the BBC leaves a sour taste in the mouth and is an eye-opener on how the private sector and public sector weave webs of corruption," said Mr Duale.
While House committees have in the past been accused of getting too close with people with an interest in the laws they scrutinise, the expose by the BBC gave rare insight into the problem.
Mr Duale said Mr Wetang'ula cannot wish away the claims and must tell the country what his engagements with BAT were and why, as a Trade minister, he was hobnobbing with its officials and receiving freebies.
He also asked the Ethics and Anti-Corruption Commission, the Directorate of Criminal Investigations and the Director of Public Prosecutions to start investigations on the local aspects of the scandal.
Mr Wetang'ula had earlier addressed a press conference and said he would sue the BBC and local media houses that reported on the matter, which also involved public officials from Uganda, Rwanda and Burundi.
-nation.co.ke