Kenyans on Twitter React to Ksh 585 million NYS Thief Ben Gethi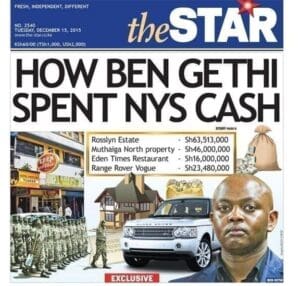 On Tuesday, businessman Ben Gethi was a hot topic on twitter after assets worth Sh585 million acquired using funds from the National Youth Service, were traced back to him.
According to a report by  The Star, most of the assets traced and frozen belong, directly or indirectly, to the 31-year old businessman. The properties include prime plots in upmarket Muthaiga in Nairobi, a new Range Rover and cash in various bank accounts. The assets were purchased through proxies and lawyers and some registered using lawyers.
Besides Gethi, the Assets Recovery Agency also named his mother Charity Wangui Gethi as a respondent along with his sister Jedidah Wangari Wangui; Nairobi hairdresser Josephine Kabura Irungu; John Kago Ndungu, a driver at KCB; Sam Mwadime; and lawyers Patrick Onyango Ogola and Martin Muthomi Gitonga.
Gethi's mother and sister Jedidah Wangari Wangui have been named as the owners of four prime plots in Muthaiga and Westlands valued at Sh159 million.
Following the report that has been seen as a step in the right direction towards recovery of the stolen Sh791 million, Kenyans on Twitter who have been keen on the NYS graft shared the opinions sampled below.
Welcome to the year 2030… Ben Gethi is a celebrated self-made entrepreneur inspiring the young generation. A success story to inspire.