New poll shows half of Kenyans want Raila to either quit politics or not run in 2017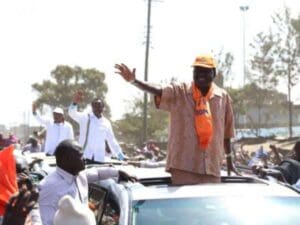 Half of Kenyans want Cord leader Raila Odinga to retire from politics completely or not run in 2017, an Ipsos poll shows.
The survey found 34 per cent of Kenyans want Raila to quit while 22 per cent said he should not contest for the presidency in 2017 but remain in active politics.
Thirty-five per cent supported Raila's bid.
"Over half Jubilee supporters prefer the retirement option stated at 56 per cent, with an even larger majority on the Cord side stated at 67 per cent wanting him to contest," the poll shows.
Those opposed to his candidacy thought he was likely to lose while others cited "he is too old".
Some Cord supporters believed Raila would not be allowed to assume power even if he won the coming election.
"More revealing here is the fact that more than three times as many Cord as Jubilee supporters (20 per cent and 6 per cent respectively) believe Raila will not be sworn in."
Those who feared his supporters are likely to be rowdy and chaotic if Raila becomes the president in 2017 stood at 13 per cent; with Jubilee supporters at 15 per cent and Cord at 9 per cent.
Early this year, the Cord leader said he will vie for president in 2017 despite being "denied victory" in the last two elections.
Two per cent of supporters from the two parties held the view that Raila is "better placed in the opposition than to be the president".
According to the results of a "make believe" election-based survey, President Uhuru Kenyatta still leads Raila by a considerable margin.
"The gap between them narrowed somewhat between August and November. This gap declined from 27 per cent to 13 per cent, the narrowest it has been in over a year," the report read.
The survey, which was released on Wednesday, took place in 41 counties between November 7 and 19, 2015.
A target population of 2,058 Kenyans above the age of 18 from both rural and urban areas were interviewed.
-the-star.co.ke