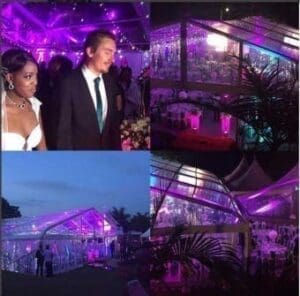 Jubilee Christian Center's Bishop Allan Kiuna and Rev Kathy Kiuna's daughter tied the knot yesterday in a private garden wedding.
Few days ago the parents of Vanessa posted a photo of her with the fiancée writing a simple caption "Blessed".
Well yesterday the two – Robert and Vanessa got married in a colourful ceremony and later held evening reception to end the day.
The beautifully set up reception revealing the detailed idylic deco and skill tha went into the wedding set up.
Chris Kirwa a close friend to the Kiuna's posted congratulatory messages and attached photos of the couple.
"This Evening is Robert & Vanessa Who just wedded a few hours ago???? It's evening/Reception now – Join us in Celebrating Them #CelebratingMarriage #AwesomeCouple #GodBlessThem"
"Proud Moments ???? Vanessa and Robert Big Night – @catechrisltd – We celebrate this #WarmestCouple who got married yesterday – Join us in Celebrating Then #CelebratingMarriage #AwesomeCouple #GodBlessThem"
-sde.co.ke