Al shabaab commander who led El Adde attack killed in KDF airstrike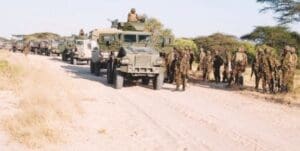 Chief of Defence Forces Gen Samson Mwathethe has said the Al-Shabaab commander who led the El-Adde attack, Maalim Janow, had been killed in a KDF airstrike launched after the incident.
Gen Mwathethe said they are yet to know the exact number of Kenya Defence Forces (KDF) soldiers missing in action, injured or dead even as the search and rescue mission came to an end Thursday.
He however refused to divulge how many soldiers had been rescued alive and the dead ones.
He said some bodies were badly mutilated and had gone bad and would require DNA tests to identify them.
Gen Mwathethe said a board of inquiry had landed at the camp and started investigations on what happened.
He at the same time denied claims KDF had prior intelligence warning of a pending attack on the camp. A commander with the Somali National Army said they warned KDF of a pending attack by the terror group.
"A number of soldiers are missing in action and we have not accounted for all of them. We will know more once the team investigating the attack completes its work," said Gen Mwathethe.
He added Nairobi was first informed of the attack last Friday at about 6.30 am, almost two hours after it had happened.
This was because the terrorists first struck where the communication masts of the camp were cutting all links to and from other camps there and Nairobi.
"The command centres were down after the explosives that were used in the attack. We got the information on the attack through intelligence informants before diverting a surveillance plane to the area," he said.
He said when the first plane that was headed for Kismayu but was diverted to El-Adde arrived at the scene hours after the incident, the crew encountered resistance by anti-aircraft guns.
"The anti-aircraft guns were positioned at a school in El-Adde and this posed danger to our response teams."
Gen Mwathethe said the first reinforcement to rescue the injured soldiers arrived at the camp three days after the incident. This was because of the resistance they were getting from the terrorists and could not fly to the area.
The soldiers had to use the road for ten hours from Damasa to the area about 75 kilometers away.
"The teams are in full control of the area and would finish the search and rescue mission today (Thursday).
The military chief said some foreigners are believed to have helped in the planning and execution of the attack.
The attackers used Vehicle Borne Improvised Devices (VBIED) an indication they had planned the raid for long and exploited a tactical weakness during rotation of forces to exact the carnage.
-standardmedia.co.ke