Bungoma cleric in Wetang'ula voter bribery case says his life in danger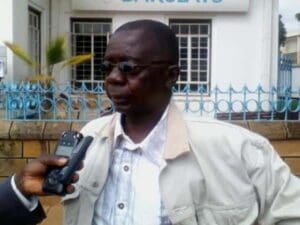 A cleric who said he was one of those allegedly bribed by Bungoma Senator Moses Wetang'ula has reported receiving threats.
Joseph Machani claimed the threats are from people close to Wetang'ula, who has been accused of voter bribery in the run-up to the March 4, 2013 general election.
Machani, who is from Kanduyi in Bungoma South, testified alongside several others following former Webuye MP Musikari Kombo's petition on electoral malpractices against Wetang'ula.
He said Wetang'ula did not give them a bribe but offered to fuel their vehicles, a favour he said most leaders extend after prayer meetings.
The cleric told journalists in Bungoma town on Friday that he has also been threatened by members of the clergy who were with him at the Kanduyi Red Cross Hall before the elections.
He said a clergy member threatened him when he found him with a colleague in Bungoma town on January 10.
"Avoid this traitor because he is the cause of all the problems the Senator is facing. We do not want him," his colleague was reportedly told.
The cleric said: "I am a very minor person who has a family to look after. I know this matter ended when Wetang'ula won but from the looks of things, I am afraid someone might do something bad to me."
Machani, a reverend at Sangalo's Word of Life Church, said he was beaten by four masked men who found him at his home at about 8pm on April 17, 2014.
He said his identity card was taken and that he had to leave the county for a year after the attack.
The man said he reported the incident at Bungoma police station after receiving treatment at the county referral hospital, but that no suspects have been arrested.
He said five others who testified in the matter have fled the county.
"We are calling for security agents ahead of the Independent Electoral and Boundaries Commission ruling on the matter next Wednesday," he said.
Wetang'ula faced the commission over the allegations at the Milimani law courts on Tuesday.
He denied the bribery allegations but could be removed from the voters register after a court found evidence.
The Bungoma High Court found the Senator guilty of bribery and treating voters on September 30, 2013.
Judge Francis Gikonyo cancelled his election but he recaptured the seat in December 2013.
-the-star.co.ke