Elections 2016: three things a Kenyan living in the diaspora should know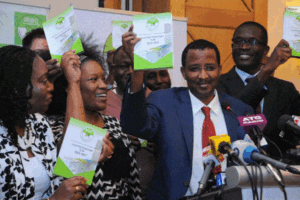 The Independent Electoral and Boundaries Commission (IEBC) told Kenyans living in the diaspora the commission's game plan in seeing them exercise their constitutional right to vote, despite being thousands of miles away from home.
The three-point criteria by the commission was outlined by Chairman Isaac Hassan at Intercontinental Hotel in Nairobi on Thursday.
First, IEBC would only register Kenyan citizens as voters in countries/states in the diaspora where Kenya has a diplomatic presence.
Secondly, the said country to qualify must have more than 3, 000 Kenyans living there to become a credible and usable polling station.
And finally, Kenyans in the diaspora will only cast their votes for their preferred Presidential candidate (no other elective seat), and when a referendum is held.
The downside is that the commission made it clear that it received zero funds allocation from the government to register voters abroad.
Chairman Hassan, however, noted that Kenyans in the diaspora were given a right to register as voters in the constitution, although this was yet to become a reality.
He assured Kenyans that the process would take off from next year when government promised to allocate money towards the exercise.
He directed the audience to the commission website iebc.or.ke where the diaspora policy is uploaded.
The Chairman added that the commission was working on regulations to guide all processes related to elections in the diaspora.
The commission is working with an August 2017 election date, and would use schools in Kenya as polling stations.
For more information visit iebc.or.ke
By Anne Kanina: HTBluff Associates. An EMG Consortium #HTBLUFF