Photos:Anne Waiguru-I don't miss the trappings of power or glamour
NAIROBI: Anne Waiguru looks markedly different from the once powerful Devolution and Planning Cabinet Secretary as she drives her nondescript Toyota Wish saloon car into the New Muthaiga Shopping Mall.
With her son Ron Mwangi Waiguru, 11, in tow, she cuts a typical image of a soccer mum out on a shoppingjaunt.
Gone is the phalanx of imposing police bodyguards, the luxury limousine with tinted windows, the deafening siren from chase-cars, and the army of busy-looking aides scrambling for her attention. Mother and son went through the security check at the mall's gate, and got into the supermarket.
Waiguru went about her shopping oblivious of the stares she drew in her black and white print dress, with a thin black belt. A white sweater covered her shoulders, while a pair of black heels covered her feet. In her hands, she carried a little black purse, her phone and her car keys.
The mall on Thigiri Ridge Road is a quiet place, right in the middle of an affluent suburb. Her son Ron is in school uniform — a white shirt and a pair of grey long trousers.
Waiguru had just picked him from school at the exclusive Porters House. Mother and son walked out, each carrying a white supermarket-branded paper bag. They shared a joke and walked back to their car, ready for the ride back home.
"Since I left Government, I have been resting at home mostly, living a normal life and just reflecting on the year that has been," she told The Standard on Sunday.
"I have had sufficient time to bond with family and friends in the process," said the former minister as she got into her car, buckled up and reversed out of the parking.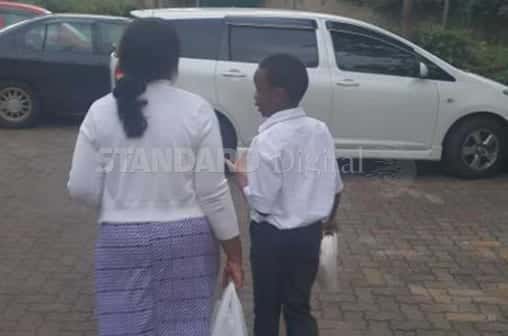 There was no reminder of the controversial life she left behind 50 days ago when she quit amid a mountain of corruption allegations where hundreds of millions of shillings were looted from the Ministry she headed. She looked relaxed.
"Due to the rest and calm, my health has stabilised. It is not possible to achieve the previous state of health, but the doctor says I am now stable. I am taking time to also live a healthy lifestyle, watching my diet and exercising to keep fit," said Waiguru, in the first interview since she left office.
She feels quite at ease without the security she was previously associated with.
"Do I feel secure driving? I could pose that question right back to you…I think every person driving in Nairobi has a fair sense of apprehension about driving in certain places, or certain times of the night. But we don't go about thinking about it consciously throughout the day. So I feel as safe as you or the person next door. I drop my son Ron to school every morning and pick him up every evening," she said.
"To be absolutely honest, the conveniences are good, but do I miss them? No! The trappings that come with the office are insignificant when contrasted with the responsibilities that the office comes with and the sacrifice that one has to make of their private sphere.
"What I actually missed was the "trappings" of anonymity and the private joys that anonymity gives. In any event many of these trappings that come with the office of a CS are easily available to many Kenyans without paying such a heavy price," she says.
"I have generally not kept many friends throughout my life. I differentiate friends from acquaintances. So yes I have kept my friends, from every sphere of life. I thank God, for he has given me good friends. Most of my friends, could see through the smoke screen and they too have been very hurt by these happenings."
Heavy price
She added: "With regard to acquaintances, there are many well-meaning people who have remained close, and sympathetic. Many of whom could understand what was happening. But as is normal, there are those who drop off, because there's no point of convergence anymore. This is normal, it happens all the time as we go through different seasons in life."
Waiguru is still trying to come terms with the events that preceded her departure — the loss of Sh79 million from the National Youth Service (NYS) which is supervised by the Ministry of Devolution and Planning.
"The six months or so before I left were very painful. They had been preceded by a hectic period of getting the NYS programme off the ground. What followed was traumatic. Personalised attacks, nuanced allegations and a deliberate move to shield the culprits. My family and my health paid a heavy price. Since leaving I have had time to rest and catch up with family and friends. I have also had time to reflect."
It will be remembered that the Saturday she sat in her office in the powerful Harambee House address — the Office of the President— she announced in a hoarse voice that she had quit government because her doctor had asked her to "undertake much lighter duties".
– standardmedia.co.ke