Uhuru bypasses tycoons to go for Coast vote-Why Joho is uneasy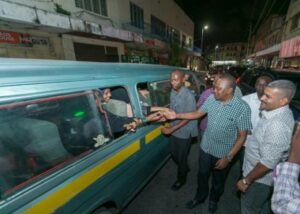 President Uhuru Kenyatta's strategy of directly engaging community leaders at the Coast in his continued stay in the region has rattled ODM leaders, including Mombasa Governor Hassan Joho.
Kenyatta, for the first time as President, has camped in Mombasa for 20 days as he prepared to roll out his strategy to win over a region that voted for Cord leader Raila Odinga overwhelmingly at the last election.
President Kenyatta seems to have changed tactics by snubbing Mombasa politicians to directly reach out to rural communities like the populous Mijikenda, who have about a million of the 1.6 million Coast votes.
Malindi District Cultural Association secretary general Joseph Mwarandu and Mijikenda Youth Forum patron Nyonga wa Makemba say President Kenyatta plans to directly reach the indigenous communities may well work.
"There is a change of protocol here, because President Kenyatta is the first to engage local communities directly, bypassing Mombasa political brokers, and this could be making Joho uneasy," said Mwarandu.
President Kenyatta has been holding post-mortem meetings with the Gideon Mung'aro-led group whenever he completes a public function, according to Ganze MP Peter Shehe.
At the moment, Joho has the upper hand in the region, having successfully edged Tourism Cabinet Secretary Najib Balala out of ODM to deliver over 80 per cent of Coast's votes and elective seats to Raila at the 2013 general election.
Uhuru is working with Kilifi North MP Mung'aro and Kinango's Gonzi Rai as he seeks to penetrate a region that rejected him.
Tomorrow, the President and Joho will open the English Point Marina, the first marina in the East and Central Africa region.
They will also address the media on developments in the tourism sector in the region and the country at large.
Former President Daniel Moi reached out to the coastals via Mvita MP Abdulswamad Nassir's father, Sharrif Nassir, while Balala was the point man throughout Mwai Kibaki's two-term era before Joho edged him out ahead of the 2013 polls.
Ganze MP Peter Shehe said the Coast is not Cord territory anymore and urged Joho to respect the President, whom he said was free to tour any part of the country anytime without consulting anyone.
"Why should one person think that he commands the entire Coast to the extent of complaining that he has been snubbed by Kenyatta, who is free to tour anywhere anytime?" said Shehe.
Joho has on several occasions warned rebel MPs led by Mung'aro of dire political consequences should they make good their threat of ditching Cord.
-the-star.co.ke