Carry your own cross, central Kenya leaders tell corruption suspects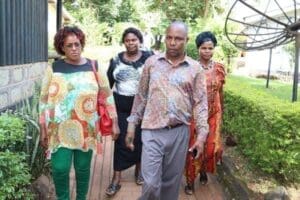 Political leaders from central Kenya region have urged those implicated in corruption not to drag along the name of the Jubilee Alliance Party and the presidency while defending themselves.
Central Kenya Political Caucus chairman Dennis Waweru (MP, Dagoretti) and legislators Kabando wa Kabando (Mukurwe-ini), Waihenya Ndirangu (Roysambu) and MCAs from 11 counties in the region told those implicated in graft to carry their own cross.
The same sentiments were shared by Embu Senator Lenny Kivuti and Mbeere North MP Charles Njagagua, who spoke separately.
They said those adversely mentioned in corruption issues should defend themselves individually and not drag others in their mess.
Speaking at Izaak Walton Inn during a meeting to form a task force to fight the illicit brew menace in the region, the leaders said corruption was an individual problem and not a collective vice.
In a statement read by Mr Waweru, the leaders said they fully supported President Uhuru Kenyatta and Deputy President William Ruto and were satisfied with the way they were fighting corruption.
The more than 500 leaders called on the Ethics and Anti-Corruption Commission (EACC) to move swiftly and conclude investigations into the National Youth Service (NYS) scandal, which they feared had taken a political dimension.
They said corruption has no political boundaries, urging those from the Opposition not to make political capital out of the scandal.
Mr Waweru urged Opposition leaders to stop criticising the government over the corruption incidences before first addressing corruption in counties that are led by Cord governors.
He cited corruption instances in Nairobi, Kisumu and other Cord-led counties.
Devolution Cabinet Secretary Mwangi Kiunjuri was present at the meeting but only dwelt on the illicit brew menace.
"The foundation of any country is based on their youth. Once they perish, the country also perishes," he said.
The leaders decried the low number of voter registration in the central region.
They noted that only 283,000 new persons had registered as voters in the region, compared with more than 406,000 in Nyanza region.
The leaders formed an 11-man secretariat to draft anti-illicit brews laws to be passed by the region's county assemblies.
They at the same time called on the government to establish an anti-alcoholism police unit to crack down on illegal production sale and consumption of illicit liquor in the region.
Mr Kiunjuri cautioned MPs against being divided in order to enhance the provision of services to the people.
-nation.co.ke