PHOTOS:TRADE & CULTURAL EXHIBITION RALEIGH OCT 2016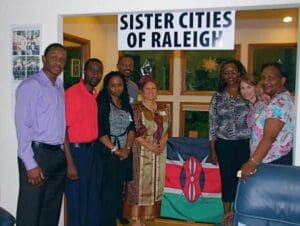 Nairobi has been a sister city to Raleigh NC since 2011.This year Raleigh is celebrating its 30th anniversary.
The City of Raleigh through The Raleigh sister cities has invited the people of Nairobi to participate in the celebrations.
The Nairobi city committee lead by Capt. George Njue has planned a TRADE & CULTURAL EXHIBITION  in Raleigh for October 2016 and invites the business community and cultural groups from Kenya.
All Kenyan companies with interest to showcase their  products & services to the United States consumers are invited.
The coffee growers & marketers especially co-operative unions are encouraged to come and participate with an aim of establishing direct trade between them and the warehousing and retail companies. We shall also run engagement meeting between the business parties.
Kenya Embassy in Washington Dc has been invited to come and talk about business opportunities in investing in Kenyans well as extending the invitation to  other Kenyans within their docket.
The AGOA initiative has not been effectively utilized by the Kenyan farmers organization and Farming product industries.Largely because of lack of information, and monopoly tendency of those already exploiting it.We will be putting more emphasis in this area  by encouraging the North Carolina people to use that opportunity to import from Kenya  those commodities covered by AGOA from Kenya.
Also in view of the expected direct flights between Kenya & USA almost becoming a reality. Kenyans should position themselves to be able to utilize these services and also create business enough to sustain the initiative.
Kenya-USA tourism should be away to go.This should be encouraged and Kenyans living in the US communities should take lead in marketing and advocating for their country.
Other products like Flowers, horticultural products,tea,clothing, mineral etc are the purpose of the exhibition.
We also look forward to inviting the Kenyan runners to participate in Oak marathon in Nov 2016.
Groups that would like to share Kenya rich culture are invited also to entertain the citizens of North Carolina and the surrounding states.
Other Kenyan Business in the USA and the surrounding are invited.
Our appeal also at this point is to ask for other Kenyan community leaders and business organization in other parts of USA who would want to partner with us to do the exhibitions in their cities. To let us know, this will give the Kenyan team a great market and reach more people ( expanding market).
The population we intend to reach is about 50-60 people million in the south east coast.
Inquiries can be done directly to by whatsapp ,text or call Capt. George Njue @ 9196125893/captainnjue77@gmail.com OR Isaac Kuria @ 919 602 4640/ issackuria@gmail.com OR write to [email protected]raleighsistercities.org
Capt. George Njue
Chairman Nairobi committee.
Here find some of the highlights of Raleigh-Nairobi sister cities partnership caught on camera.