Hilarious: Kinyanjui The Reporter's Perspective on Raila's Embarrassing Fall-VIDEO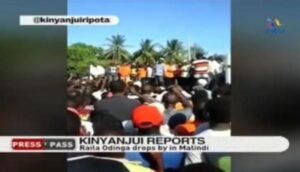 Unless you live under a rock, it is safe to assume that you have all watched that video of Raila Odinga and a host of members of the opposition tumbling down in Malindi.
The podium collapse marked yet another embarrassing moment for the leader of the opposition. Some of his past misfortunes include the caning by an old man in Kwale and the chase by an angry bull.
As you would expect, Kenyans have been making a mockery out of the debacle and one of them is Kinyanjui The Reporter. As some Kenyans continue to claim Raila was sabotaged, the unconventional reporter has come up with an in depth analysis of the 'down to earth' CORD rally in Malindi.
– nairobiwire.com