Joho storms commander's offices after his security officers withdrawn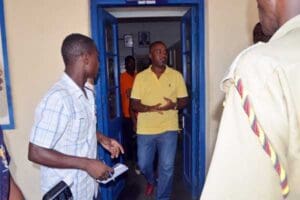 Hassan Joho stormed the Coast regional commander's office on Thursday demanding an explanation for actions against him by the "bully government".
The national government withdrew the Mombasa Governor's security team on Thursday morning and ordered them to report back to their respective stations.
Regional police commander Francis Wanjohi confirmed they returned to Urban police division in Mombasa, where they were reportedly disarmed with immediate effect.
Joho said the government withdrew his security because he is a staunch leader and follower of opposition.
He told Wanjohi in Kiswahili: " Vitisho mtaacha hata kama nyinyi ni serikali. kulikuwa na serikali kabla yenyu na kutakuwa na serikali baada yenu. Mimi sitishiki ."
This translates to: "You will have to stop these threats even if you are the government. There was a government before you and there will be one after you. I am not appalled."
The Governor asked the police boss to explain why he did not write to him concerning the withdrawal but Wanjohi did not respond.
"You think you can intimidate me with your tactics?" he posed.
He noted that the Kilifi and Kiambu Governors did not confirm that their security teams were hived when he spoke to them.
Wanjohi said the withdrawal was part of a national exercise and that security officers were being taken for advance training.
"They are supposed to undergo further training," he said without divulging more details. He claimed the orders were issued by Mombasa deputy OCPD Patrick Njoroge.
But Njoroge, who was also present, said he did not issue the orders when he was questioned by Joho.
"It was not me, It was chief inspector Charo," he said.
Wanjohi said Joho must reapply to have his security team back. "Just apply the way you did the first time," he said.
The Governor left the office in a huff. Sources said the recent spat between Joho and the national government concerned the Malindi by-election that took place on Monday.
-the-star.co.ke