Kenyan Woman Accused of Forging Documents to Inherit a Fortune in Switzerland Arrested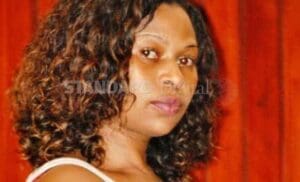 A Kenyan woman accused of forging documents in order to inherit a fortune in Switzerland has been arrested and charged in Mombasa.
Milcah Kimwende Kimako (above) allegedly forged her aunt Maria Mwikali Kimako's death certificate in order to have access to her property.
Milcah's aunt who died in Kenya last year while visiting Kitui had been married to a Swiss national, Mr Hauser, who is also deceased.
Milcah's aunt had lived in Switzerland since 1991, sometimes inviting her niece to stay with her.
Milcah also faces a second charge of forging a birth certificate at the Kwale Civil Registry in 1991, which she used to present herself as Maria's daughter and using it to acquire apassport in February 2004.
A third charge states that she produced these documents in Switzerland in an attempt to inherit Sh7 million from a Swiss bank, money belonging to Hauser and Maria.
Kenyan police launched a probe after the bank wrote to the late Maria's lawyer Makau Makau inquiring about the 'daughter' who was then arrested and charged with forgery.
Milcah was charged before Mombasa Senior Principal Magistrate Richard Odenyo on Tuesday.
She denied the charges and was released on a Sh300,000 bond, with two Kenyan sureties. Her citizenship status remains unclear since Kenyan police say she had Kenyan identity papers after living in Switzerland for many years.
Milcah alias Kasimu Mwende, denied the first charge that in February 2004 at Immigration office in Nairobi, jointly with others not before the court, misled an immigration registration officer that Maria Mwikali Kimako was her biological mother. She then got a passport with the name of Milcah Mwende Kimako Hauser. The  defendant, represented by lawyer Apollo Muindi, denied another charge stating that on October 15, last year, she falsely represented herself as the daughter of Maria Mwikali Kimako.
She denied claiming to be Maria's daughter born in Shimba Hills in Kwale or presenting the fake death certificateand Maria's ID card to Kitui Police Station.
During the applicationfor bond on Tuesday, Principal Prosecutor Eugene Wamalwa opposed her release arguing she was a flight risk as she was not a Kenyan.
But Mr Muindi opposedthe application, saying bond was a right. He insisted that Milcah was a Kenyan despite her being declared a Swiss national by the prosecution.
– standardmedia.co.ke