Kenyan woman overcome obstacles to earn bachelor's degree in Missouri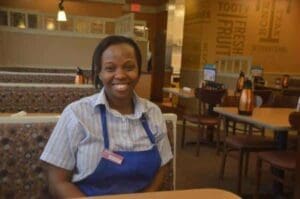 At 17, Eileen Lusamukha stepped onto American soil for the first time.
Now, 16 years later, she has overcome obstacles to earn a bachelor's degree while holding down a full-time job at Belton's IHOP.
"I would never want to take advantage of my opportunity," Lusamukha said. "Being a foreigner and immigrant, a lot of people in undeveloped countries would want to be in my position, and that's why I work so hard."
Lusamukha often waits on the members of the Ray-Pec Optimist Club, which meets weekly at IHOP. President Ed Russell said Lusamukha's work ethic shines through in her attentiveness to details like the members' drink preferences.
So, at a recent meeting, the members of the club asked Lusamukha to share her story with them.
"We thought it'd be good for all of our members to hear straight from her what she's done and what she's gone through," Russell said.
For the members, it was the first time they learned their waitress was originally from Kenya.
In her country, English is one of the official languages, so Lusamukha had a good grasp of it when her family arrived on the East Coast in 2000.
Still, a new culture and different dialect of English was challenging to adjust to.
"Everything was difficult," she said. "School was difficult, and people pronounce things different than the British."
Three years after she arrived with her family, her parents moved back to Kenya. But Lusamukha stayed, choosing to remain in a foreign country, far from her immediate family.
She wanted to stay to achieve her goal of graduating from college and pursuing a master's degree, so she moved to Kansas City, where extended family lived.
"Initially I went to college and flunked out. (My) English papers had a lot of grammatical mistakes, and it just got very frustrating for me because I'm very driven. I strive to do my best in everything," Lusamukha said.
But she kept at it. Eventually she enrolled at UMKC to pursue an international studies degree. She held down her job at Belton's IHOP despite a hectic schedule, and she successfully applied for dual citizenship in Kenya and the United States.
"I like learning about other cultures … and I've been that way ever since I was little," she said.
While taking classes at UMKC, a typical day for Lusamukha began at 5:30 a.m. at IHOP for a full shift. After getting off in the early afternoon, she completed homework before her first class at 3 or 4 p.m. and then attended classes until as late as 10 p.m.
"It was hectic, but like I said I'm here alone," she said. "I have bills to pay so that's what I have to do."
Her perseverance and ambitious attitude eventually paid off. Last month she graduated with her bachelor's degree, and soon she'll begin pursuing a master's degree in business.
A few days after she spoke to the Optimist Club, Lusamukha spoke about her country. She said Kenya was once one of the more peaceful in eastern Africa but now must confront radical extremism following recent attacks. A September 2013 attack on a mall in her home city of Nairobi left 69 dead and injured 175.
And the Kenyan economy, she said, has faltered recently due to ongoing political corruption.
"We do have a Constitution but it's not followed," Lusamukha said, adding presidential tenures are supposed to be limited to two five-year terms. But former president Daniel Moi took office in 1979 and retained the position until 2002.
"The middle class should not be struggling, but in my country they're struggling. They have to pick and choose what they're going to pay for bills, and the cost of living there is so high," she said.
Though she visits Kenya often, she doesn't plan to move back.
"This is where I became an adult, so I feel like it would be so hard to go back to that," Lusamukha said, adding that she is often surprised by the ignorance that some Americans have about Kenya.
"The biggest problem I have about America is the fact that everybody, (asks) me silly questions," Lusamukha said. "They ask, 'Did you live in a jungle?' I did not grow up with lions in my backyard, but that's the misconception they have."
She continued by saying poverty is not universal in her country, but it can be more damaging than in the U.S. because her home country lacks the strong federal assistance programs found here.
"People there, when they tell you they're starving, they're actually starving. But it's not all of Africa."
She added that without money, continuing education is impossible in Kenya. "There's nothing like financial aid."
One of her goals is to use her international studies degree to travel the world and serve as a translator, to bring awareness to a country many Westerners know little about.
Lusamukha's journey has shown her the importance of education, and now she says she tries to inspire younger people to continue on in school.
"I was luckier than some of my friends. I still have that in the back of my mind," she said. "I never want to sit here and waste time and waste opportunities given to me."
-demo-mo.com