Lucky Kenyan doctor tells how he survived Brussels airport terror attack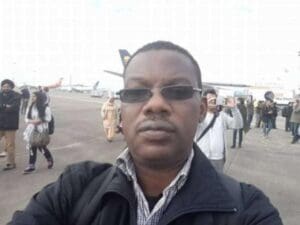 A Kenyan doctor who survived the bombings at Brussels airport is among passengers held in the city after flights were cancelled.
Nearly all flights to and from Brussels Zaventem Airport are yet to resume after the Tuesday terror attacks that killed at least 31 people at the airport and Maelbeek Metro station.
William Maina, a senior project officer with the World Health Organization in Uganda, said he was proceeding to his boarding gate at the Brussels airport when the blasts went off.
Maina, a former director of non-communicable diseases at the Health ministry, wrote posts as events unfolded on his Facebook page on Wednesday.
"We are evacuated from the terminal building to the aircraft packing area with temperatures of 5°C and a fast moving wind. Confused and scared, all passengers troll their bags around. All you can hear are shouts from security… 'Move there. Keep away from the building," he said.
"For one good hour we stand in the open cold wind, still confused and scared, as sirens sound all around. We do not feel the cold."
The doctor said that from the airport, all passengers were put into buses and taken to a shelter in the "bitterly cold" aircraft
hangar. He said they spent the entire day there, without warm food.
Maina said aircraft that was being repaired had to be towed to create space for hundred of passengers.
"The garage is immediately converted into a refugee camp. Airport staff quickly start distributing water and blankets… Cold water and those thin kikoy-like airline blankets," he said.
"Here is where we spent the day… In the cold… in the garage… drinking cold water… All day. We are shivering and cold… Maybe others are not but I am dead cold," he said.
Temperatures in Brussels on the day of the attacks oscillated between 0 degrees Celsius and about 5 degrees Celsius.
Maina said airport staff were not sure when flights would resume.hyn
"Let us wait and see…but I need food…hot food hata kama ni githeri (even if githeri) …," he said.
Nearly all airlines have cancelled their flights to the airport. Brussels Airlines announced the earliest flights could only resume tomorrow.
"Brussels Airlines has cancelled all flights to and from Brussels Airport [on March 22 and 23. We are doing our utmost to get, as quickly as possible, back to normal operations in order to bring our guests to their final
destination," the airline said in a statement.
Airport authorities later moved the shaken travellers to a heated shelter.
Maina said in a post: "Finally they took us to a heated hall…a kind of sports hall, at least not a military barrack. And yes, I got hot food. Believe me you, I got real hot food. They gave us hot pumpkin soup and bread for dinner."
"The Red Cross and police are doing all this for us. Afew airline staff are hovering around trying to answer questions whose answers they don't have. They are handling nearly 10,000 different nationalities including Chinese, Indians and Nigerians. It is not an easy task; I pity them."
Maina said he went to sleep at about half past midnight but was woken up by noisy passengers before dawn.
He said the reality of going 24 hours without doing some basic things was weighing him down.
"There are no showers; only water closets. My beard has grown. I suddenly realise I am growing older. My beard has really turned grey. I shave every morning so I hardly give my beard time to show its true colour. I tell myself that I can live with it just for now," he wrote.
-the-star.co.ke