PHOTOS:Granny's Attempt to Deliver Gift to President Uhuru Faulted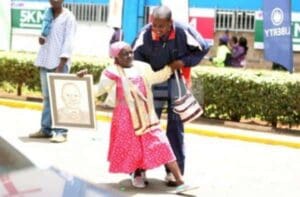 An elderly woman learnt the hard way that it would take a lot more than a gift to have an audience with the country's very important persons(VIPs).
During the recently concluded Beyond Zero marathon at the Nyayo National Stadium on Sunday, an unidentified woman caused a small scene when she tried to deliver a portrait photo of Uhuru Kenyatta to First Lady Margaret Kenyatta.
She tried several times to reach either the First Lady or Deputy President William Ruto but all her efforts were in vain. She was turned back and held by security personnel as the two executives left Nyayo National Stadium after the marathon.
Here are the photos
Photos Courtesy: BONIFACE OKENDO/SDE
– nairobiwire.com