VIDEO:Sonko Reveals Fake Voters in Kajiado By-Election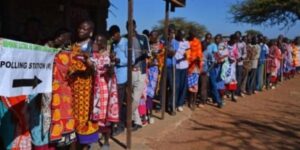 Nairobi Senator Mike Sonko has revealed how a political party ferried voters registered in other constituencies to participate in the Kajiado Central by-election on March 16, last year.
Sonko, who made an elaborate post on his Facebook timeline, claimed that the said party was engaging in the same trick they had used in Kajiado to ferry voters to Malindi, where a by-election is set to take place on March 7.
"In the entire fake voting process the IEBC (Independent Electoral and Boundaries Commission) staff and agents of the both parties are jointly compromised to allow any fake voter to queue and vote," revealed Sonko.
While giving photographic 'evidence' on the fake voters, the Senator vividly described the individuals captured in the pictures, giving their background and the constituencies they had voted in during the 2013 General Election.
For instance, he mentioned one Marieclara Kerubo Mayaka alleging that she had voted at Umoja in Embakasi West Constituency, but was seen casting her vote in Kajiado Central during last year's by election.
Also in the more than 10 photos posted, Sonko included John Rex Omolle, whom he claimed was from Makadara yet he (Omolle) voted in Kajiado Central, despite having voted in the former constituency in the previous election.
When Kenyans.co.ke contacted Marieclara Kerubo, who has expressed her intention to seek a political position in Embakasi East, she dismissed the claims stating that she was not in Kajiado Central, neither was the photo used by the Senator hers.
"The claims made by Sonko are false and it first came up last year; I am speaking to my lawyer to file a defamation case against Sonko," she said.
The controversial Senator used the photos to back his earlier statement, that voters were being ferried from Nairobi to Malindi to participate in the by-election.
In the last year mini polls in Kajiado, ODM's candidate Elijah Memusi beat his Jubilee rival Patrick Tutui by 16,008 to 15, 508 votes.
Here is Mike Sonko's post:
Like I earlier stated about a certain party ferrying youths from Nairobi to Malindi RURAL polling stations to vote in…

Posted by Mike Sonko. on Tuesday, March 1, 2016
-kenyans.co.ke