Isaac Rutto storms police station, harasses police officers demanding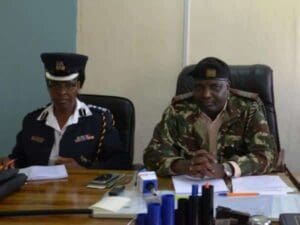 Bomet governor Isaac Rutto stormed the Bomet police station on Thursday evening demanding the release of garbage truck belonging to the county.
The truck had been impounded by the police officers for disposing the waste at the land set to the construction of a Bomet University college.
Accompanied by more than 200 youth and town residents, a furious governor took on the Officer Commanding the Police station (OCS) Chief Inspector Paul Karani demanding immediate release of the truck and the driver who had also been arrested.
Police officers at the station in plain clothes watched helplessly as Rutto together with the group that jammed the station engaged in altercation with the OCS.
"How can you arrest a government driver going about his normal duties of delivering waste to a designated dump site?" Rutto asked the OCS.
He wondered why senior officers from the national government were arbitrarily applying the law and failing to consult yet the constitution was very clear on devolved functions.
"How can they stop disposal of waste? Not unless they want us to die of communicable diseases. Where do they expect to dump their own cabbage and that of the whole town and outlying trading centers and institutions?
Rutto also issued a seven day notice to the Interior cabinet secretary Josepk Nkaissery to transfer County commissioner Bernard Leparmarai whom he claimed has allegedly been interfering with County functions and undermining the devolved unit of government.
"We are going to make this county ungovernable until they bring GSUs to remove us if he is not going to be moved from this place within seven days," he stated
"I will bring thousands of people to camp at his office because he has been interfering with the county functions, barring us from accessing government land and constructing Sub-County offices at Silibwet trading centre in Bomet Central," he said.
President Uhuru and his deputy William Rutto are expected to launch the construction of the first ever varsity college in Bomet county at the particular land in the town next week.
Leparmarai said he would not be cowed or threatened by Rutto's remarks saying they will continue securing the land since it belongs to a private entity and not county.
"That is a private land belonging to the university. Everyone should know. Moi University has the title deed. The county should therefore stop disposing the waste on the land or else if
it means arresting anyone or bringing GSU officers to man the site we shall bring," he said.
-the-star.co.ke