VIDEO: Drama as UoN students burn Sonu offices in protests of Babu Owino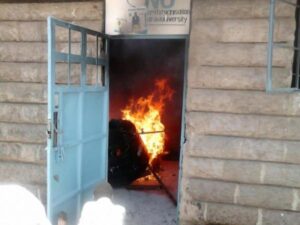 UoN students burned Sonu offices in fresh protests on Monday, demanding the exit of Babu Owino who has already been sworn in as chairman.
They also took to Nairobi city streets in the demonstrations, waving placards, hurling stones at police officers and chanting "Babu must go", "Bado mapambano".
They said they also wanted police officers to stop intimidating them.
"We voted for Mike Jacobs but our vote was taken from us. We will not allow a few people, old men, a few individuals, the administration, the GSU… We will not allow [them to intimidate us]," said one of the students.
The students said they will continue holding demonstrations until the results, which they said were flawed, are nullified.
They had been warned against fresh demonstrations over the student union elections that saw Owino re-elected chairman for the fourth time.
Some said Owino, who garnered more than 18,000 votes against his competitor Mike Jacob's 3,000, engaged in election malpractices.
The students had also gone on a rampage on Saturday demanding Owino's exit. Anti-riot officers had been deployed to Freedom Corner where the protesters had planned to meet before marching to other parts of town.
The students blocked some roads in the weekend demonstration against the election, which the administration has termed legal and valid.
Most students were puzzled by Owino's win since Jacobs was leading in all campuses bymidnight Friday; it is not clear how Owino won.
Students have in the past raised concerns over Owino's leadership style. They linked him to hooliganism after a video of him harassing Jacobs surfaced.
-the-star.co.ke