VIDEO:MAGUFULI TAKES A JIBE AT KENYANS AFTER OPENING E. AFRICA'S BEST BRIDGE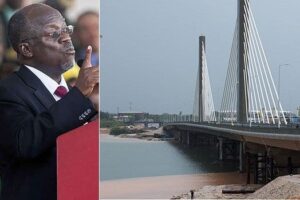 Tanzanian President John Magufuli on Tuesday took a jibe at Kenyans, without mentioning them by name of course, for claiming to have everything good in the region.
President Magufuli aptly chose the occasion of opening East Africa's longest bridge to remind neighbouring countries that Tanzania was finally waking from its slumber.
The 680 meter-long suspension bridge, the first of its kind in east and central Africa, connects Dar es Salaam's business district to Kigamboni creek.
"This is the only bridge of its kind in East and Central Africa. Go to Uganda, Kenya, DRC, there's no bridge like this one anywhere," President Magufuli said.
"That is why those who think everything good is in their country have started writing….they said Mt Kilimanjaro is theirs, Olduvai Gorge and others," he added amid chuckles from the crowd.
-nairobinews.nation.co.ke