Police Reveal How MP Junet Disturbed Them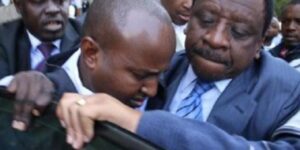 Flying squad officers sent to arrest Suna East MP Junet Mohamed have revealed the daunting task they supposedly underwent before they nabbed the legislator.
One of the officers reportedly stated that after the orders were issued, they tried to locate Mr Mohamed but every time they almost got hold of him, he escaped mysteriously.
The officer noted that the lawmaker must have had information about their operations.
"We sent officers to at least four locations, but we were unable to arrest him. We believe that someone was tipping him [off] on our moves," the Nation quotes one of the officers.
The detective noted that at one particular moment, they thought they had cornered him at a petrol station but before they could apprehend him, Mr Mohamed switched cars and sped off.
The officers mentioned that they then proceeded to camp at his home but the Suna East MP failed to appear. It is alleged he instead spent the night at his father's house.
After the Monday evening efforts to nab Mohamed failed, the flying Squad decided to track the lawmaker to Nation Centre as they were aware he had an interview on NTV's AM Live show.
In a statement, however, Mohamed dismissed the report stating: "The impression being created that the Hon. Junet Mohammed was somehow hiding from the police on Monday is inaccurate and, at best, malicious. The Hon. Junet carried out his duties as expected of him and retired to his house late in the night on Monday".
Mohamed was dramatically arrested outside Nation Centre by officers who had surrounded the building.