VIDEO:I Have a Problem With CJ Willy Mutunga Wearing an Earring -Ruto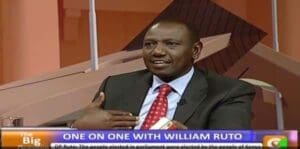 If there's anything we learnt from Deputy President William Ruto's interview with Hussein Mohammed on Tuesday, it's that he is very good at giving punchlines and sideshows to avoid answering questions directly.
I'm not sure if it comes out naturally or whether he actually rehearses for it.
When asked by Hussein whether he has a problem with IEBC as presently constituted, Ruto dropped a huge punchline, completely unrelated.
"Personally I have a son who is a lawyer. I have a serious issue with my Chief Justice having an earring. But I haven't organized a demonstration."
He used similar diversionary tactics when answering questions on Jacob Juma.
Here's a clip of the DP making the Mutunga statement.