Gideon Moi urged to end revolt against William Ruto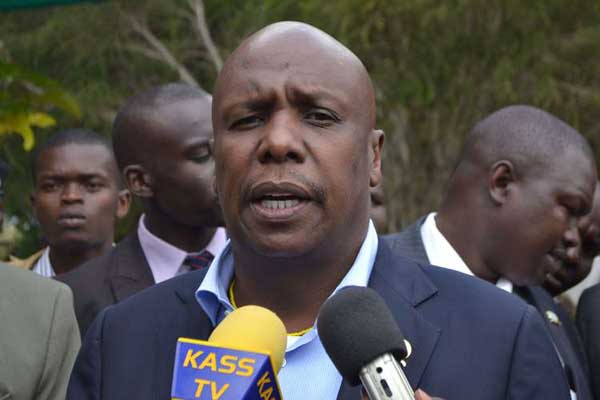 Devolution and Planning Cabinet Secretary Mwangi Kiunjuri has asked Baringo Senator Gideon Moi to end the rebellion against Deputy President William Ruto in the region and work with the Jubilee administration.
Mr Kiunjuri warned that the political division in the region threatens to cost the Kalenjin community the presidency come 2022.
Speaking at Koriema in Baringo South Sub-county on Saturday when he presided over the opening of Kimao Dam, Mr Kiunjuri said the region should listen to one leader but not be seen as a wrangling community.
"This region cannot continue providing the stage for political theatrics as we move closer to the next year's elections at the expense of the people while other regions are focusing on development," said Mr Kiunjuri.
He added: "Let us unite in addressing the issues affecting our people and stop reading too much into situations that are quite normal. 2017 is far away and at the moment our energies remain focused on solving the problems facing Kenyans."
Mr Moi's quest to revamp Kanu in the Rift Valley, which voted overwhelmingly for Jubilee in the last elections, has not gone down well with the deputy president and his allies.
The merger of the Deputy President's United Republican Party (URP) and President Kenyatta's The National Alliance (TNA) to form Jubilee Party has caused jitters in the Rift Valley with some residents fearing that the region risks losing political identity in terms of a strong party representation which is giving Kanu some lifeline.
In the recent past, the Baringo senator has been traversing the vast Rift Valley urging locals to join Kanu, something which has not gone down well with Mr Ruto's URP supporters who perceive this to be a scheme to weaken the Deputy President's hold on the region.
POLITICAL GREENHORN
The DP has been describing Mr Moi as a "political greenhorn who is not yet ready for State House" and has repeatedly dismissed Kanu as a party which has lost its footing in the vote-rich Rift Valley.
Mr Kiunjuri assured the DP of the unwavering support of Mt Kenya region, noting that the region would not renege on its promise to support him in 2022.
The CS warned people from the region against supporting The Coalition for Reforms and Democracy (Cord), saying it lacks a genuine direction to take the country forward.
He said that that the disorganisation in Cord to the point where principals do not know who among them will be the flag bearer in the 2017 general elections was a clear indicator of a lack of direction by the coalition.
"We have outlived eras where people were elected based on their tribal inclinations and if Cord does not put their house in order and starts campaigns based on policies, then Jubilee will have an early Christmas to celebrate before the 2017 elections," said Mr Kiunjuri.
-nation.co.ke