PHOTOS:See How Usain Bolt Helped Kenya's Vivian Cheruyoit in Rio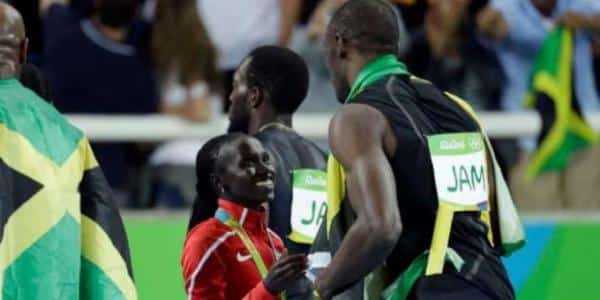 A brief prep talk followed by a quick hug from the world's fastest man Usain Bolt, may have helped Vivian Cheruyoit win her first gold medal in the women's 5000m at the Rio Olympics.
16 years into her career, Cheruyoit surged to not only gold for Kenya but also set a new Olympic record of 14:26.17.
A few minutes before the race begun, Cheruyoit was seen speaking to the towering Jamaican sprinter. For many commentators, whatever Bolt said to the Kenyan champion helped her defeat her nemesis Almaz Ayana.
Ms Cheruyoit, who was participating in her fourth Olympic Games, was followed closely by Kenya'sHellen Obiri, who clinched a silver medal in the race.
Gerald Imray, a journalist from the Miami Herald said, "Vivian Cheruiyot turned to — who else — Usain Bolt for a pre-race pep talk. Guess what? It worked".
Keen social media commentators were also quick to point out that the prep talk was more than coincidence.