VIDEO:Two police officers arrested over murder of man inside a Mwingi hospita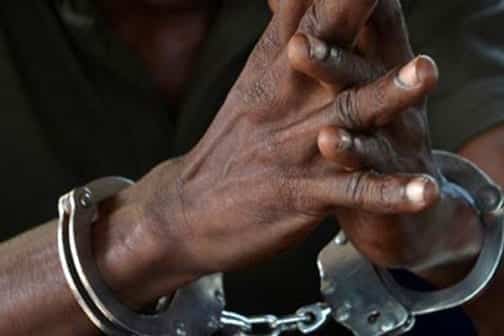 Mwingi, Kenya:  Two police officers have been arrested over the murder of a hawker who was shot dead in cold blood in a hospital bed in Mwingi Thursday morning.
The officers of the rank of inspector of police and a corporal are attached to the Kitui DCI office. They were arrested by a team of detectives that was sent to investigate the murder of Fredrick Musyimi, 27, at Mwingi Level Four Hospital.
Inspector General of police Joseph Boinnet said investigations into the incident have been ongoing.
"They were arrested and the probe is ongoing. The two will take plea for the murder of the young man in Mwingi," said Boinnet.
Investigators handling the saga say they intend to arrest more officers.
"There seem to be more players in this thing and we expect to arrest even the driver who was with them," said an officer.
Detectives from Nairobi, Machakos and Embu were sent to investigate the brutal murder of the victim inside a hospital ward.
Musyimi's sister Sharlyne Malia who witnessed his brother being shot dead in his hospital bed has claimed that the men who killed her brother are after her.
She slithered out of a family meeting at Kathiani village in Kitui West, after claiming that two men came looking for her.
"A man claiming to be a CID officer had earlier called me saying there were new developments on my brother's killing and wanted us to meet. He also claimed two people who were police officers based in Mwingi had been arrested over the killing and wanted me to go and identify the suspects," Malia, who visited Standard Group offices in Nairobi after escaping home said.
Nurses and clinical officers at the hospital have demanded a full-time armed police guard following last Wednesday's killing of the patient. The medical workers on Friday night stormed out of wards and boycotted work after two strange men were spotted inside the ward where Musyimi was brutally murdered.
On Thursday at dawn, two strangers stormed a surgical ward where Musyimi was admitted with gunshot wounds and pumped several bullets into his stomach, killing him instantly as his sister watched. Earlier in the day, Musyimi, a hawker in Kitui town, was picked by four men claiming to be police officers who bundled him inside a white car and drove with him to Ukasi along the Mwingi-Garissa Highway where they shot him severally.
Musyimi however survived the first gun attack and was rescued by police officers from Ukasi Police Station and taken to Mwingi Level Four Hospital where he was later killed.
Musyimi's brother, Mukando Malia, said he last saw him on August 19. "He had a wound in the ear. He told me he had been shot by police after a robbery at Wikilily, about three kilometres from Kitui town. I nursed him," he said.
Relatives of man shot dead in Mwingi hospital go into hiding after threats, intimidating calls