VIDEO:Drama as Supreme Court Judge Loses Temper During CJ Interview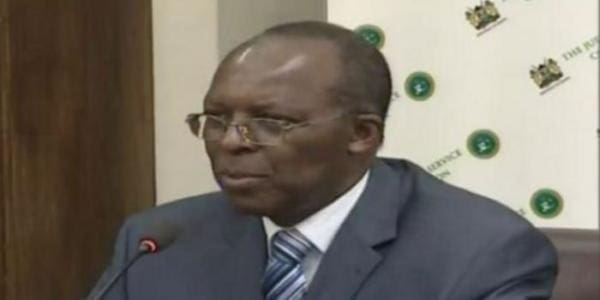 The last interview for the Chief Justice position turned dramatic after the 12th candidate – Supreme Court Judge Prof Jackton Ojwang – became agitated by the line of questioning from one of the commissioners.
Justice Ojwang was visibly angered by some of the questions fired by commissioner Mohamed Warsame who happens to be his junior in the Judiciary.
Hell broke loose when Warsame began questioning the Supreme Court judge on a letter authored by the Judicial Service Commission (JSC) that faulted Prof. Ojwang's conduct as a judge.
Ojwang' noted that the JSC was wrong to interfere with his judicial work but added that he did not challenge the JSC's letter since he regarded it as a mundane matter.
Warsame would still not relent and wanted more confirmations on the matter. An agitated Ojwang' decided to remain silent  and when pressed further to explain his conduct he responded: "I am here to answer questions".
When asked to give a yes or no answer to a question he had earlier answered, the judge stared at Warsame and responded, "Please….give me a break!"
It was then that Warsame moved on to the questions regarding the petition filed by now Kabete MP Ferdinand Waititu challenging the election of Nairobi Governor Evans Kidero.
The Supreme Court judge noted that his findings on the Waititu case were based on the court proceedings and noted that he did not appreciate Warsame's assertions that appeared to cast doubt on his ruling.
"My judgement was as per the law, or are you more aware of the law more than I do?" the veteran law professor sarcastically asked Commissioner Warsame.
At some point during the heated back and forth, Ojwang' sought the protection of the chair complaining that Warsame's questions were unclear and  not 'meritorious'.
Warsame insisted that he was not the one seeking the job and asked the chair that he be allowed to ask his questions.
Earlier during the interview, Justice Ojwang had been probed on whether he had a short temper, an accusation he denied before adding, "I do not entertain jokers in my court room".
After more than 90 minutes of questioning from Warsame, JSC chair Margaret Kobia intervened and directed the candidate not to answer Warsame's questions.
Mohamed Warsame holds a Bachelor of Laws degree from the University of Nairobi and represents the Court of Appeal in the JSC.
-kenyans.co.ke