Masai Ujiri: The NBA top executive with Kenyan roots
Masai Ujiri: The NBA top executive with Kenyan roots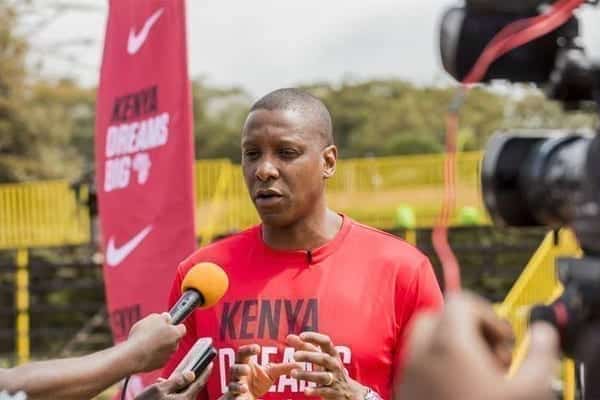 Even before he introduces himself as the General Manager of Toronto Raptors in the National Basketball Association — making him one of the most powerful sports executives in America — the giant of a man inevitably draws attention to himself with his 6.4 ft height.
Then comes the name, Masai Ujiri, with traces of Kenya and Nigeria, which piques further curiosity. But the mention of his sister's distinctively Kenyan name, Nthenya Ujiri, triggers the question Lifestyle has been waiting to ask: Is he yet another powerful man with Kenyan roots?
"My mother is from Machakos, it's something many people don't know," says the former basketball player during his recent visit to Kenya.
It is a side of his heritage that rarely comes to light despite having been in the public eye for decades. The glare is even more so considering he is married to Ramatu Barry, a fashion model, who he met in 2007.
"I never grew up in Kenya though. I was born in England and raised in Nigeria. My sister and I have Kenyan names while my other brother has his from Nigeria," he says.
His parents met and fell in love while studying in England. His Nigerian father, Michael Ujiri, was an hospital administrator while his mother Paula Grace was a doctor. They later moved back to Nigeria before emigrating to America.
SPECIAL PLACE IN HIS HEART
It is no wonder then that Africa holds a special place in the heart of the man who was brought up in the northern Nigerian city of Zaria as he tries to give back as much as possible and keep in touch with relatives.
He is deeply involved in Africa and the NBA Commissioner, Adam Silver, refers to Mr Ujiri as "the Pied Piper for a whole continent." The commissioner, according to Sports Illustrated, can imagine Mr Ujiri going into politics some day.
Masai is married to Ramatu Barry, a fashion model, who he met in 2007. PHOTO| COURTESY
Behind the desk in his office in Toronto, not far from a large Nelson Mandela poster, is a picture of Mr Ujiri with US President Barack Obama. President Paul Kagame of Rwanda is also a friend and mentor.
And, after more than 200 schoolgirls were abducted by Boko Haram terrorists in Nigeria in 2014, he wrote a column pleading for help, linking his own daughter, Zahara, with the plight of the nameless girls.
"I am speaking because sport has given me a voice that rings out in North America," Mr Ujiri wrote. "I want to do whatever is in my power to help end this tragedy."
He was in Kenya last month for activities involving Giants of Africa (GOA) — a non-profit organisation he is associated with that traverses the continent holding basketball camps, identifying children with talent and helping them develop into formidable players that can get opportunities locally or internationally.
Mr Ujiri and the GOA team also found time to visit Yatta and Ndalani in Machakos County where Mully Children's Home takes care of hundreds of orphans.
While in Kenya, as part of an African tour, Mr Ujiri said he was impressed by the talent but he and his team had decided to go beyond merely training players.
MANY DISCIPLINES
"One of our ambitions here is to coach the coaches and make them better as they are able to identify and mould the children into better players," he says.
"We also want quality players and, when we identify a kid, we try and offer them a platform and it doesn't always have to be in basketball because these days there are many disciplines around the sport, so playing shouldn't be the be-all-end-all."
Mr Ujiri knows just how big NBA's appeal is in Africa, though it does take a beating when football, especially the English Premier League, shows up. He wants to have more children from African countries playing professional basketball in America.
"Kids are starting to play at younger ages, attending camps and clinics. Exposure from social media has also had a lot of impact with the children where they can closely follow their favourite players, teams and even watch a game on their phone, this is getting more and more kids involved in basketball and dreaming about playing in the NBA, we just might have a Kenyan star soon."
This is probably something close to Mr Ujiri's heart as his childhood dream to play in the NBA was never achieved.
"I am the prime example and I use my life to show that even when your dream is to play basketball at the highest level in the NBA, you can still amount to something even if that changes. You can be the president of a basketball team," says Mr Ujiri.
When his parents moved to America, he played basketball for two years at Bismarck University before he transferred to Montana State University-Billings.
With the path to the NBA closed, he moved to play in Europe for six years but ended his professional career in 2002. It probably hit him that he was not good enough as a player and decided to be a scout and source for players from Africa, South America, Europe and Asia.
He started moving around America attending college and high school games looking for young players with talent and at the same time trying to establish contact with college coaches and administrators.
While accompanying a young Nigerian player to a draft tryout in Orlando, Mr Ujiri met Mr John Gabriel, who was the Orlando Magic General Manager. They talked for a few minutes and, impressed by Mr Ujiri's extensive knowledge of international players, Mr Gabriel offered him an unpaid scout position for the team.
This meant Mr Ujiri was using his own financial resources, something he has been quoted as saying almost bankrupted him as he had to raid his savings.
Luckily for him, he did not do the unpaid job for long. He met Mr Jeff Weltman, an executive with the Denver Nuggets, who introduced him to Mr Kiki Vandeweghe, Denver's former GM, who hired Mr Ujiri on salary as an international scout, a position he held for a successful four years. The journey to the top had started.
Mr Ujiri joined the Toronto Raptors as director of global scouting in 2007 and the following year was elevated to assistant general manager.
Three years later, he became the first African General Manager in the NBA when he was returned to Nuggets to run their basketball operations department.
PROVING THEM WRONG
He displayed his skills and the world was impressed when he pulled an impressive 12-player deal that stunned the entire NBA.
He proved his critics wrong when the Nuggets won a franchise-record 57 games that season and had an NBA-best 38-3 record at home before.
For his efforts, Mr Ujiri was selected as the NBA's executive of the year while George Karl, the Nuggets coach, was chosen coach of the year.
This success did not go unnoticed and in May 2013, he packed his bags and returned to Toronto after he was named President and General Manager of Basketball Operations of the Toronto Raptors. The move also meant he had hit the million dollar mark. Mr Ujiri signed a five-year, $15 million (Sh150 million) deal.
But does he feel like an outsider in the NBA's top echelons?
"Not really," he tells Lifestyle. "Never felt pressure or as an outsider because of my job, because I have the best job in the world and I love what I do."
But he admits it is hard work with many expectations and public scrutiny.
"The one part I look at is I will never be a success if I don't bring the continent (Africa) along, if there's no one else after me. I don't want to be remembered like that. I want another GM, President from Africa," he says.
But that is easier said than done in the fickle world of sports where a string of losses, foreseen or unforeseen, can render one jobless in a heartbeat.
"At the end of the day it all comes down to me. I have to put a team on the basketball court that has to win and attract people," he says.
While he is yet to lead his team to an NBA Championship, Mr Ujiri has done a commendable job on the winning part.
In the 2015–2016 season, Raptors won a franchise record 56 games, finishing in second place in the Eastern Conference for the first time in history.
This saw the team reach the playoffs where they won their first series since 2001 by defeating both the Indiana Pacers and Miami Heat. They advanced to the Conference Finals for the first time where they faced eventual winners the Cleveland Cavaliers losing in six games.
"Our guys did an unbelievable job last year but, as I always say, there were 29 losers in the NBA and one winner," he says.
"We are trying and learning how to win at a high level and I am happy to say it is happening for us. We have lots of young players and see what we can do with what we have."
Mr Ujiri is proud of his current team more so his two superstars — Kyle Lowry and DeMar DeRozan — who recently won gold with the US basketball team at the Olympics and are considered the team's future.
He says he texted the two superstars after their win in Brazil but was quick to bring them back to reality.
"I texted congratulating them on the win and told them '(NBA) championship next, that is the goal'. They are good guys and they want to win," says Mr Ujiri.
But while the team is doing well on the court, the next headache for Mr Ujiri is to ensure it becomes a global brand.
While Raptors are the only NBA team from outside America, Ujiri knows the value of having fans from the smallest villages in Africa to the biggest cities in China and beyond.
One of its strategies has been to turn to rap superstar Drake, a Canadian, and make him a global ambassador and executive for the Toronto Raptors.
"We started a campaign to energise the fans on and off the court and Drake was an obvious fit. He is helping put the team out there and has been a supporter for a long time," says Mr Ujiri.
The choice to go to Drake was obvious as most teams use superstars who come from the same area. Brooklyn Nets went with Jay Z, rapper Snoop Dogg is a big supporter of Los Angeles Lakers, Rick Ross is a mega Miami Heats supporter.
But having Drake as a fan was not enough, the team needed him to bring him on board and that task fell on one person.
"I had met him (Drake) before when I was assistant GM. I set up a lunch meeting and it was phenomenal, it was an easy fit and he was happy to work with the team. I am happy to call him a friend and colleague," he adds.
With the major success Mr Ujiri and the Raptors have had, it is plain to see why the owners would want the President to stay on in Toronto.
According to ESPN, Mr Ujiri and the team are in advanced negotiations on a contract extension.
The Raptors and Mr Ujiri are nearing agreement on a lucrative new deal that will keep the 46-year-old in Canada for the foreseeable future, even though he still has nearly two years left on the original five-year $15 million pact he signed with Toronto in May 2013.
Though he wouldn't talk about the money, Ujiri confirmed that indeed talks are ongoing and showed signs that he will stay on.
"I love Toronto and honestly I've learned to call it home; my family is there and I can honestly say that is where I want to be," he says. "It's a phenomenal organisation, has great owners, I love the city, fans and our team. It's an incredible place to be."
-nation.co.ke