VIDEO:Released 'Chicken Thief' Explains His Relationship With President Uhuru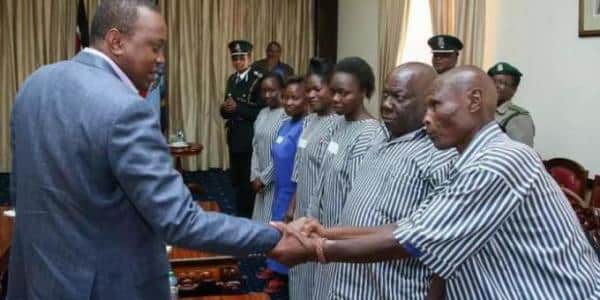 One of the 7,000 prisoners who were pardoned by President Uhuru Kenyatta has revealed that he is going to cast his vote in favour of the current president for releasing him before he could complete his term.
Jacob Kembea, who had been serving a four-year jail term after he was convicted of handling stolen property, could handly hide the excitement caused by his freedom adding that he felt indebted to President Kenyatta.
"Yesterday the President did a very valuable thing, my vote will be going to Uhuru Kenyatta," Kembea stated.
"Who else would I support when he has done this for me? I am going to tell voters to do the same," the excited ex-prisoner told journalists outside the Isiolo Prison.
"Even during the 2013 elections, I was the only one who was defending him- until he won," claimed the ex-convict who, incidentally, hails from the vote-rich Tharaka-Nithi county.
Kembea decried that prison life had been very hostile and swore never to go back.
"Prison is a place where rehabilitation and justice takes place and I am glad I have learnt my lesson," he stated.
Asked on what he plans to do with the newly found freedom, the 40 year-old Kembea revealed that his first assignment would be to find a wife.
During the Shujaa Day celebrations on Thursday, President Kenyatta announced that about 7,000 petty criminals who are about to complete their prison terms would be released.
In an off-the-cuff remark, the President joked that the release would allow the Judiciary to send more of those who commit serious corruption related crimes to prison.
Here is the video, courtesy of Daily Nation:
-kenyans.co.ke