Uhuru Attacks Raila During Jubilee's National Governing Council Meeting
Uhuru Attacks Raila During Jubilee's National Governing Council Meeting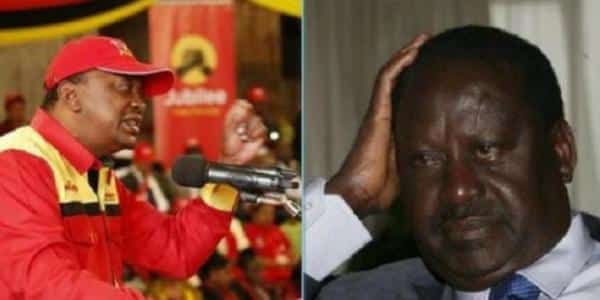 President Uhuru Kenyatta on Friday fearlessly gave CORD leader Raila Odinga a severe tongue lashing during the Jubilee Party's National Governing Council (NGC) meeting at Bomas of Kenya.
A visibly angry Kenyatta took a good amount of time to lambaste Mr Odinga whom he accused of always being at the forefront to inhibit the Government's efforts to propagate development in the country.
"When we start a project, the first thing you hear from him (Odinga) is corruption, we started the Standard Gauge Railway project, he says corruption," the President stated.
He noted that the former Prime Minister was simply playing "petty" politics by trying to poke holes on Government initiatives without giving a strong alternative to the citizens.
"You must understand the thinking of a man and his backwardness…backwardness…pettiness… pettiness…..pettiness. He (Odinga) thrives on division of Kenyans and poverty. Uwanja wake ni wamatope (His field is muddy). We will not divert from our objectives," Kenyatta emphasised.
Mr Kenyatta stated that Odinga's latest stunt to demonise the Sh6.8 Billion Murang'a Water Project was simply a ploy for him to get votes from people of the Central region.
"The level such a person would stoop for him to get a platform to talk is just too low. The other day he called for a press conference to incite Murang'a people that their water is being taken away. His sole reason was for him to get sympathy so that the people of Murang'a do not turn out in large numbers to vote for Jubilee," Kenyatta stated.
The Head of State described Odinga as a 'Mganga' and 'Lord of Poverty' who is always fighting to get the same publicity as the reigning Government.
"Because he thinks we are competing now he wants when people are watching the news at night, they see the Jubilee function and also hear him talking his dirtiness," the Jubilee Party leader went on.
Kenyatta mentioned that he had well studied the thoughts of Odinga and realised he was a "backward and petty man" who is not concerned about the welfare of the people of Kenya.
The President excited the crowd at the Jubilee event while he attacked Odinga for more than five minutes and even at one moment received a standing ovation, with the masses breaking into a song to hail their leader.
Kenyatta reiterated that unlike Odinga, who he claimed was focused on dividing the country along tribal lines, Jubilee's main objective was to play on a clean field of development.
-kenyans.co.ke
Uhuru Attacks Raila During Jubilee's National Governing Council Meeting