Man sent for mental check-up after fresh claims on Jacob Juma murder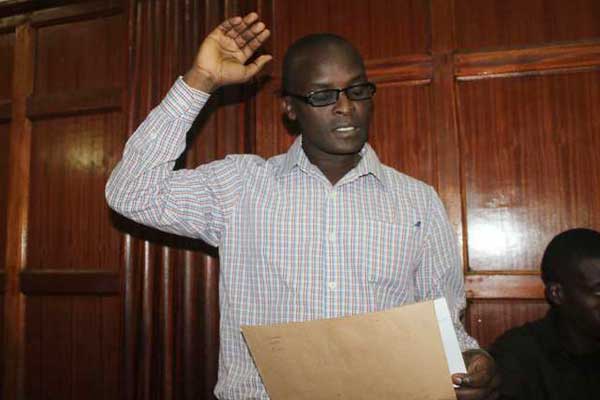 A man who claimed to be a messenger and spy at the Deputy President's office has been sent for a mental check-up after he made fresh claims on Jacob Juma's murder.
The magistrate on Wednesday directed Douglas Nyakundi to undergo the test at Kenyatta National Hospital or Mathari Referral Hospital.
Mr Nyakundi appeared in court Wednesday and claimed he was coached by activist Boniface Mwangi on what to say on Mr Juma's murder.
He gave the magistrate, Charity Aluoch, a handwritten affidavit with his fresh claims.
This prompted prosecutor Duncan Ondimu to ask the court order a mental examination for Mr Nyakundi.
Mr Nyakundi is said to have delivered a letter to Mr Mwangi supposedly containing a confession by the alleged killers of Mr Juma.
Mr Mwangi recorded his conversation with Mr Nyakundi on his phone in the presence of his lawyer, and that subsequently led to his arrest on November 30.
The accused allegedly promised the activist that he would give him more details on who murdered the businessman and even introduce him to the actual killers.
He wanted the activist to deposit an unspecified amount of money in his bank account so that he could leak to him details of an alleged plan to kill him through a stage-managed accident.
On Wednesday, the court ordered Mr Nyakundi detained at the Kilimani Police Station pending the medical examination.
The case will be mentioned in two weeks.
-nation.co.ke