VIDEO:Doctors union officials ejected from meeting after rejecting Uhuru's offer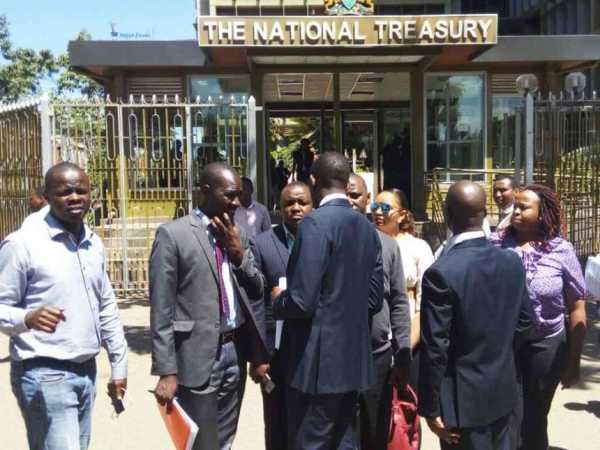 Doctors' union officials were chased from Treasury after reporting that the National Governing Council had rejected the government's latest offer to end their strike.
Officials of the Kenya Medical Practitioners and Dentists Union went to the meeting on Friday afternoon for negotiations on ending the strike that has lasted 33 days.
The meeting lasted 10 minutes.
The union earlier rejected the offer by the government to increase medical interns' salaries, secretary general Ouma Oluga saying they would accept nothing less than the CBA signed in 2013.
Speaking outside Treasury, Alex Muturi, KMPDU trustee member and negotiations leader, said they were told to leave the negotiations that CS Cleopa Mailu and PS Nicholas Muraguri also attended.
"We expressed the desire to continue with negotiations and receive a counter offer from the government. After presenting our feedback we were told to walk out," he said.
What the government has offered
Raise the entry level grade into the public service for doctors to Job Group M from Job Group L. This is higher than the normal entry level for other public servants and recognises doctors' professional training.
Raise the Enhanced Emergency Call allowance as follows:
Increase to Sh66,000 from the current Sh30,000 for Job Group L – an increase of more than 100 per cent.
Increase to Sh72,000 from Sh30,000 for Job Groups M-P – also an increase of much more than 100 per cent
Increase to Sh80,000 from Sh30,000 for Job Groups Q and above
A new Doctors' Risk allowance at a flat rate of Sh10,000 per month.
The sum total of the government's offer means that the minimum gross salary for doctors will increase to Sh196,989 from the current Sh140,244 at full implementation at the current entry Job Group L.
The government has blamed the doctor's union for the 'illegal strike' that commenced on December 5, 2016.
Spokesman Eric Kiraithe said the union was offered good packages but instead it has not stopped the strike.
But unions are demanding a 300 per cent pay increment for doctors, and 25 to 40 per cent rise for nurses. The 300 per cent rate would increase the monthly pay of a university intern to Sh325,000.
Doctors said the CBA signed three years ago is yet to be implemented.
The agreement seeks to ensure the government employs 1,200 doctors in public hospitals and that money is availed for medical research that will be done locally.
In it was also a promise for furnished lounges in all hospitals and full scholarships for all doctors to acquire Masters degrees and pursue other postgraduate studies.
What doctors are demanding
Train more doctors and absorb them into public service
Research funding to improve clinical management and outcome
Hospitals equipped with equipment and drugs
Clear structures of promotions and transfers
Medical compensation
Structures to address disciplinary measures and the code of conduct
Security at work
Salary structure that was collectively agreed upon with government in the CBA
-the-star.co.ke