Nasa inches closer to picking presidential candidate to fly the flag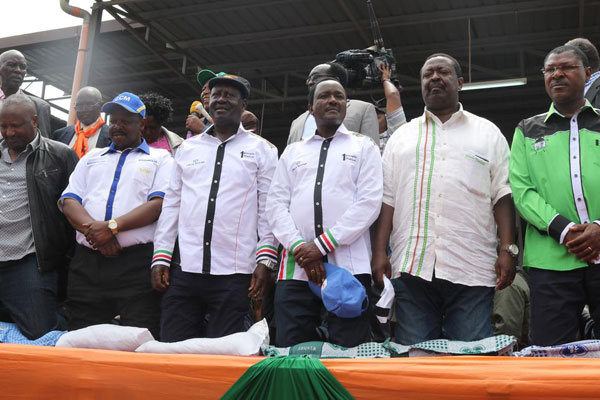 The technical committee formed by the National Super Alliance (Nasa) to help identify the presidential candidate has agreed on general guidelines as they move to break the deadlock on who among the four principals should fly the opposition's flag.
In some of the guidelines the Nation obtained from interviews with multiple sources involved in the process, Wiper party leader Kalonzo Musyoka appears to be the constant in all the scenarios that will be presented to the quartet of party principals within the next few weeks.
ODM leader Raila Odinga, his Amani National Congress counterpart Musalia Mudavadi, Ford Kenya chief Moses Wetang'ula and Mr Musyoka are all seeking to be the united opposition's flagbearer.
Whereas the team is aware that the final call on who flies the flag lies with the principals, they are said to be in agreement that any pair that has either Mr Odinga, Mr Mudavadi or Mr Wetang'ula, in no particular order of candidate or running mate, will not sell since they all come from the western part of the country.
Such a ticket, the committee feels, would be perceived as a Western affair to the detriment of the alliance's overall health.
The thinking makes Mr Musyoka the fulcrum around which the negotiations will revolve. He could either be the candidate or a running mate to any of the three.
With full knowledge of this, Nasa strategists believe intelligence officers have been monitoring the team's every move while Jubilee is thought to be keen on having Mr Musyoka bolt out and have his own presidential campaign to divide the opposition votes.
Even after he made it clear that he would not be joining forces with the ruling party, Mr Musyoka remains a prized target of Mr Kenyatta's camp.
The opposition strategists are also advising that any talks about power-sharing should be based on existing positions in the Constitution.
The team has been charged with coming up with, among other things, a formation to run against Jubilee's ticket of Mr Kenyatta and his Deputy Mr William Ruto and also have structures to ensure the outfit remains intact ahead of the August elections.
The committee comprises members from the academia, former government bureaucrats and political strategists.
Vihiga Senator George Khaniri, an ally of Mr Mudavadi's, said the talks were on schedule.
"I am privy to the discussions and I know that good progress is being made. We will surprise critics who think that we may not agree on a single candidate," he said.
This week they have met the principals at least two times to update them on the progress. A source who sits in the committee further clarified that contrary to media reports last week that they had handed in an interim report, they are yet to do so.
"They meet the four principals whenever they need direction on a matter they feel they cannot proceed on without their concurrence," said an insider.
Machakos Senator Johnstone Muthama corroborated this position.
"We are yet to get any report. It is work in progress and when it is ready it will be one, no provisional and no final, just one," he said.
Formed a fortnight ago, the committee has at least two weeks to present a report offering suggestions on how to face the elections as a single unit.
Among issues on the table are how Nasa should handle nominations for the other elective seats. This includes a controversial proposal of zoning the country, according to the presence and popularity of each of the affiliate parties, and methods of financing the campaigns among other issues.
Aware that the government side was keenly following prospects of the opposition fielding one candidate, Senator Muthama said they were keeping the developments around the issue as close to their chests as possible.
"We have asked even those among us who sleep-talk not to comment about our game plan on this. Should I die today, perhaps it is my grave that would know what it is," he said.
Tongaren MP Eseli Simiyu, who represents Mr Wetang'ula in most of the coalition talks, was tight-lipped about the details.
"That one, sorry, I will let you down. Allow me not to comment," he said.
Another card on the table is that of having a "transitional president" who would serve for one term. The idea is to take account of advancing ages especially of Mr Odinga and his 2013 running mate Musyoka, who are 72 and 63 years respectively.
A source said they will also be making a strong pitch for consensus as opposed to nomination to break the impasse. He said any competitive process is fraught with the real risk of ending in acrimony and would similarly expose it to external interference.
The committee also wants each of the principals to prepare their troops to accept the outcome of consensus.
"Such would minimise chances of schisms after the candidate is unveiled. Only one of them can be the groom," a source said.
Mr Khaniri said it is important that the opposition fields one candidate in a move that would echo the 2002 polls when major opposition parties backed Mr Mwai Kibaki to dislodge Kanu from power.
"If we were able to remove Kanu after 40 years in power, why can't we send home Jubilee which has only been in power for four years?"
He said the age-old notion that a sitting African president cannot lose an election has been successfully challenged over time.
"That has been proved wrong. Joyce Banda of Malawi lost, so did Abdoulaye Wade in Senegal. In Nigeria, Goodluck Jonathan was not very lucky just like John Mahama of Ghana, a very good friend of Uhuru (Mr Kenyatta) who was recently shown the door. What makes people think Kenya is any different? This is a wave that is sweeping across the continent," said Mr Khaniri.
ODM's Executive Director Oduor Ong'wen, who does not sit in the committee but is aware of the goings-on, told the Nation that in the team's terms of reference, the issue of flagbearer will be decisively dealt with as the final item.
"There are structural and systemic issues that are more important. For instance, issues like how Nasa will operate — the power sharing structure, how they will nominate candidates for the other seats and others," he said.
This is happening amid an acrimonious debate within Mr Musyoka's Wiper party with his long-time allies such as Kitui Senator David Musila and his party chairman daring him to walk out of Nasa if he wants to. Mr Musyoka's allies feel there is an unseen hand seeking to have him go it alone despite his assurance to his supporters that he was in Nasa to stay.
Mr Nabii Nabwera, a close ally of Mr Odinga's and chief of staff of Kakamega Governor Wycliffe Oparanya – the ODM deputy party leader – outlined what he termed critical issues for consideration in picking the Nasa presidential candidate.
"He must have the capacity to run a presidential campaign. Must have existing national networks across tribes and also international political networks. Equally, he must have an operational campaign secretariat (up and running) and chemistry with the electorate.
"He must also be heading a party with structures grounded to the lowest electoral unit with numbers across board. Solid based. Spine. Cannot be arm twisted by Jubilee and with a reform history and agenda," he said, a position seen by some as outrightly biased in favour of his party boss.
Source link- nation.co.ke