AUDIO: Kalonzo links Uhuru's 'number two' to foundation woes, says Fazul must resign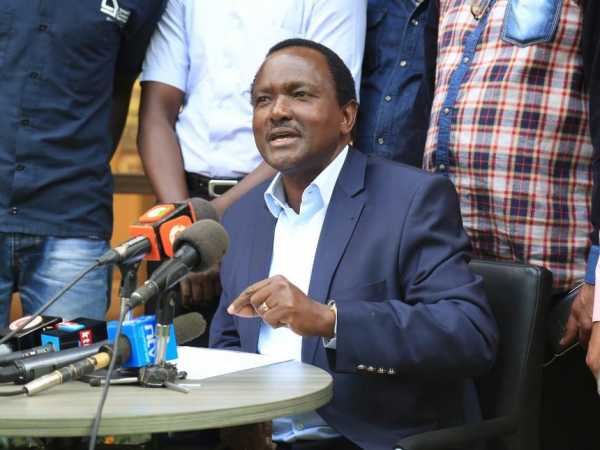 Kalonzo Musyoka has accused President Uhuru Kenyatta's "number two and his people" of targeting his foundation as part of a vendetta.
The Wiper leader and NASA deputy president candidate could be arrested over allegations that Kalonzo Musyoka Foundation laundered money and diverted donor funds.
The NGOs Coordination Board said the charitable trust received Sh50 million from China that could not be traced and could not account for a total of Sh146 million
But Kalonzo told the press in Karen, Nairobi, that the allegations "hit below the belt", were "disheartening" and only aimed at intimidating him for no good reason.
"We know people who were driven by vendetta and it is number two and his people," he said. "I am not exonerating [President Uhuru Kenyatta] but I would be very surprised if he would besmirch a family."
He did not give names.
Kalonzo asked the government to separate politics from NGO activities saying the organisations only empower members of the public.
Makueni Governor Kivutha Kibwana earlier accused the President of using the NGOs Coordination Board and independent commissions to intimidate NASA principals.
Regarding the foundation, the county chief said: "It seems [the government] is getting instructions from somebody with the aim of blackmailing Kalonzo."
Read more: State using NGOs board to intimate Kalonzo, weaken NASA – Kibwana
Kalonzo further said he will not be intimidated by anybody from the NGO.
"Yes, Sh50 million was given as a dummy cheque. The Chinese brought the materials and built five primary schools," he said.
On the board's executive director Fazul Mahamad, the Wiper chief said in Kiswahili: Huyu Fazul ni [nani]? Leo anaandika hili, kesho anandika lingine (Who is this Fazul? He writes one thing today and another tomorrow)."
He repeated: "I won't be intimidated. If I take a stand, [that is the end] and also said "Nothing will shake my resolve to bring the kind of change that the country needs".
Kalonzo and ODM leader Raila Odinga will take Uhuru and DP William Ruto in the August 8 general election.
"Fazul must resign"
The Opposition leader said he had not received an official letter from the board, which he claimed was keen on tainting his image.
Kalonzo further said he is not afraid of the possibility of money laundering charges.
He further attacked Mahamad saying he has turned the board into a one-man show and that he "doesn't even have papers".
Kalonzo said the letter given to the media was not genuine and that it was influenced by other parties.
"There are people who met and came up with this letter that was served to the media and not served to me. Hata najua penye walikutana kudraft hii barua (I know where they met to write this letter)," he said.
He said the executive director "must be stopped" and must resign.
"If they thought I would be afraid, they are mistaken. He should resign and go home. It is a shame. He should apologise to Kenyans for the damage he has caused the foundation and the people who benefit from it," he said.
"The foundation has helped more than 2,000, mainly disadvantaged, young Kenyans. I have never heard of a situation where Fazul can freeze an account without a court order."
Mahamad announced that the organisation's accounts have been frozen and the board of directors dissolved.
Kalonzo is a Trustee and the Patron. Other officials are his wife Pauline Kalonzo (Trustee and Chairperson), his son Kennedy Musyoka (Secretary) and Martha Mulwa (Treasurer).
The letter from the NGO Coordination Board was addressed to the Kalonzo Musyoka Foundation (KMF), Central Bank of Kenya, Kenya Bankers Association, Investment and Mortgages (I&M) Bank, and the Director of Criminal Investigations.
According to KMF sources, one of the foundation's accounts has Sh300,000 and another Sh500,000. It is from these two accounts that it has been running Mama Malia School.