I only thanked Jubilee for NYS jobs, I am in Wiper to stay – Nyenze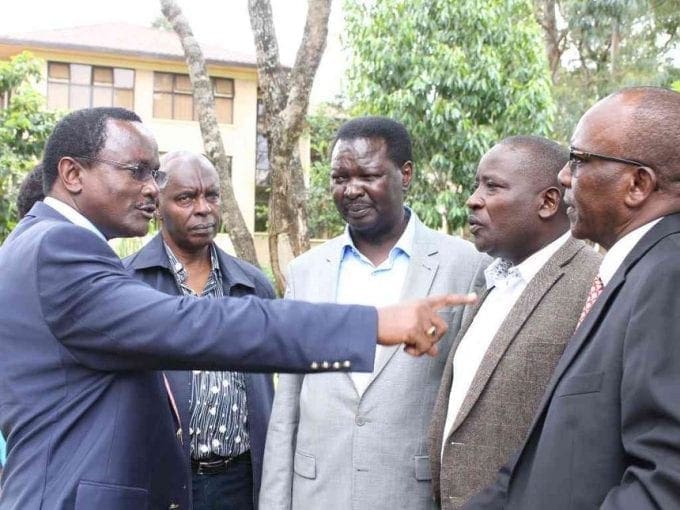 Francis Nyenze has denied ditching Wiper party after publicly "supporting Jubilee party leader Uhuru Kenyatta's re-election."
During a rally on Sunday, Nyenze and Kitui Senator David Musila asked youths to support the President on the basis of his development record.
Musila denied he did so, saying he was misquoted by "unknown forces".
In a statement on Tuesday, Nyenze also said he was misquoted and that he was merely "rejoicing with youths over NYS jobs."
"The chorus of condemnation led by my known political detractors, who see an opportunity to reignite their dimming political fortunes, will be turned into shame," the Kitui West MP and National Assembly minority leader said.
The Kitui West MP, who will defend his seat on a Wiper ticket, appealed to his supporters to remain calm and focused ahead of the elections.
"I have never contemplated leaving Wiper for Jubilee. I assure you and everyone that I am in wiper and in NASA to stay," he said.
During the rally, Nyenze also praised the Jubilee administration for doing a good job of empowering special groups such as youths and women.
"If somebody does well for you, you can't forget. Can you forget those who have done well like Uhuru Kenyatta?" he said at Kauwi Primary School on Friday.
But Wiper, whose leader is NASA Deputy President candidate Kalonzo Musyoka, distanced itself from Nyenze saying his statements were personal, not the party's.
"…this is contrary to the stand of WDM-K that is of the view that the Jubilee presidential candidate and his regime have been massive failures in governance since 2013," executive director Jared Siso said.
KITUI ELDERS WANT NYENZE'S TICKET REVOKED
Elders want Wiper to withdraw Nyenze's nominations certificate for re-election as Kitui West MP.
The Kitui group named 'Atumi ma Thome' want said Nyenze is a traitor as he backed the re-election of President Uhuru Kenyatta who is Jubilee Party boss.
They also accused the MP of undermining the Kamba community's concerted push for party leader Kalonzo Musyoka to become president in 2022.
The elders termed Nyenze a disgrace and claimed he was "bought" by Jubilee to disorientate Kitui voters.
They asked the Akamba to remain steadfast in Wiper and NASA and ignore "shenanigans by Nyenze and his ilk".
Chairman Micheal Musila said Nyenze's calls should be ignored and that his sentiments, that were backed by Senator David Musila, were unfortunate and unacceptable as he violated laws on political parties.
"As he speaks, he has a Wiper nomination ticket for the parliamentary seat. The political Parties Act does not allow him to support or to appear to support any other political party. It is an offence," he said.
Group county chair Wisman Ngovi said: "Nyenze appeared to have been given millions of money by Jubilee to support Uhuru Kenyatta and derail the political agenda of the Kambas who are solidly behind
NASA."
He said the legislator's utterances made it crystal clear that he had jumped ship.
"This is contrary to the wishes of the Kamba community which is fully behind NASA. Nyenze is expected to be in the forefront of Wiper campaigns, having been sponsored to seek re-election. But he has chosen to betray his party," he said.
The elders addressed the press at a Kitui hotel on Monday
Source link-the-star.co.ke