Magarini girl who recited poem for Uhuru, Ruto prepares for their swearing-in
An eight-year-old Magarini girl who recited a poem for President Uhuru Kenyatta and DP William Ruto has turned into a celebrity in her village.
Poet Mercy Kisagi is now referred to as 'Mercy Uhuru' or 'Mercy Ruto' both at school and at home.
The third born in a family of four is a standard five pupil of Kipanga Ajeni Primary School. Her parents are both teachers.
Mercy's journey to fame began last year when she first appeared in public during Ruto's tour of Magarini. She stunned the crowd with her impressive skill of reciting poems.
During Mashujaa Day celebrations in Machakos, her dream of meeting and talking to the President turned into a reality.
Her father who trains her also got the rare opportunity to shake Uhuru's hand.
The events boosted her passion for poetry and earned her opportunities to share her views about the current regime of "hustlers", as she says in some of the poems featuring the President and DP.
At first sight the little girl appears cool, sharp and very disciplined but she turns into a 'real presenter' when it comes to her recitals.
Mercy's presentation is clear, attracts attention and touches heart as it dwells on current national issues.
During an interview at Sea View Resort in Malindi on July 24, the girl showed she can recite her poems anywhere and at anytime.
Her father Solomon Kisagi left her alone for the interview and her boldness was not any less.
"I have four poems. Three of them are old and the fourth one new. I intend to recite the fourth one at State House when the President is sworn in after the August election.
Mercy's vision is to become a successful business lady.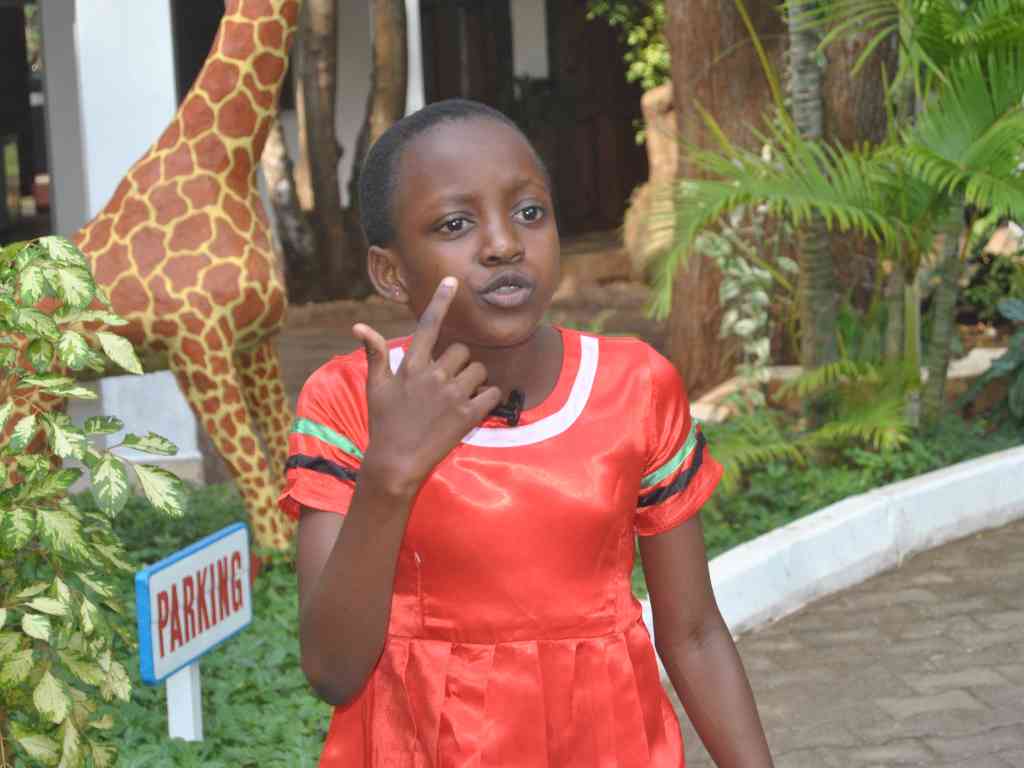 Eight-year-old Mercy Kisagi, who recited a poem for President Uhuru Kenyatta and DP Wiliam Ruto, during an interview at Sea View Resort in Malindi, July 24, 2017. /ALPHONCE GARI
UHURU HAS 'SWAG POA'
The girl's little understanding of Kenyan politics tells her the Jubilee administration will retain power.
She said Uhuru and Ruto deserve a second term to fulfill the agenda they had when they took over four and a half years ago.
Mercy says her only weapon is poetry as she is young and does not have much influence.
Before reciting her first poem, she says she gets impressed whenever she listens to radio or watches TV and hears or listens to the voices of Uhuru and Ruto.
"Hustlers are great leaders…Magarini has suffered for decades without water, bad roads…today there is water, electricity…," reads part of her writing.
This is from the poem she recited for the Deputy President in Magarini.
"Say hi to President Uhuru Kenyatta…ako na swag poa [sic]…we love you, Mr President,'' she says.
Another one of her poems is on celebrating heroes who, to her, are Uhuru and Ruto, as they have united Kenyans and ensured peace.
She talks of development projects including the SGR, expansion of Kenya Ports Authority, installation of electricity in schools, thousands of kilometres of tarmac roads and laptops for public schools.
The third poem describes how the 'hustlers' have managed to speed up development in a short period, in a country that got its independence 53 years ago.
She says its only through their leadership that development has been fast-tracked unlike in previous regimes where it was slow.
Eight-year-old Mercy Kisagi, who recited a poem for President Uhuru Kenyatta and DP Wiliam Ruto, during an interview at Sea View Resort in Malindi, July 24, 2017. /ALPHONCE GARI
'MY PRESIDENT, MY HERO'
Mercy agrees to recite the fourth poem that has not been made public as it awaits the election.
"My President, my hero, as I have entertained you with your government, I have a special poem to recite for you in August during your swearing-in ceremony for your second term. My President, I need to see you before elections," she says.
She adds Uhuru turned her into a "heroine" when he agreed to meet her. She noted everyone at her school associates her with the President and DP, something that she says makes her proud.
Mercy's father reveals he has been training her for years since becoming a teacher.
Solomon says he decided to go a notch higher last year after learning of Ruto's Magarini tour.
"I have developed many talents, but they usually vanish on the way. When I heard the DP was coming, I saw an opportunity," he says.
Solomon wrote the poem and then consulted top authorities at the school who decided that pupils be given the chance to recite their pieces for the best one to make a presentation before the DP.
Mercy emerged the best.
"Whenever the girl sees the President on TV she feels like reciting a poem for him. I normally sit with her and help her come up with good scripts."
Eight-year-old Mercy, who recited a poem for President Uhuru Kenyatta and DP Wiliam Ruto, with her father Solomon Kisagi during an interview at Sea View Resort in Malindi, July 24, 2017. /ALPHONCE GARI
'UHURU HANDSHAKE CHANGED MY LIFE'
Solomon says he walks through the village proudly as people's views of him changed when he met the President.
To him, the many years of teaching poetry have started bearing fruit, not only for the family but also their community.
He believes his life changed when he shook Uhuru's hand and likens the moment to the Bible story of the man who only had to touch Jesus' cloak.
For now, Mercy hopes to meet Uhuru before the election. She understands he is busy campaigning for his re-election but would be grateful if he spared time to see her.
She also wishes to see the President and DP retain power so her dream of seeing the country grow is fulfilled.
Once her dream of becoming a successful business woman comes to pass, Mercy says she will help take the country to another level by empowering youths
Source link-the-star.co.ke