Drama as guards evict Bungoma deputy governor-elect's wife from event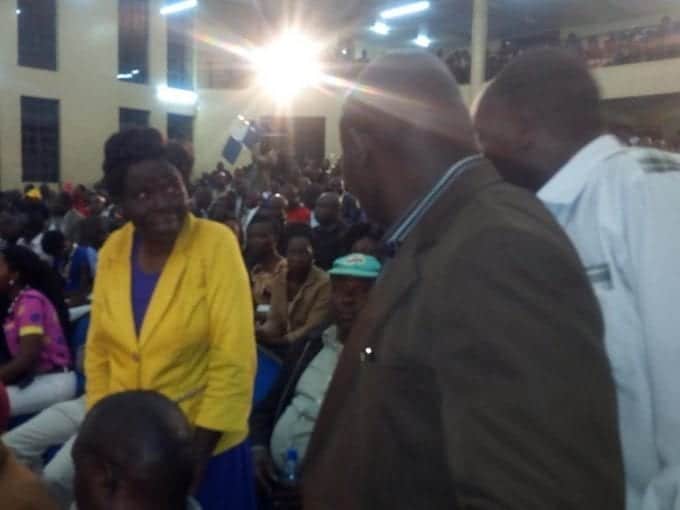 The wife of Bungoma deputy governor-elect Ngome Kibanani caused drama at the venue of Wycliffe Wangamati's acceptance speech on Friday.
This was after she attempted to push her way through the security barrier to the dais where her husband was introducing members of the family.
Hellen Nangekhe had to be escorted out of the Kibabii University main hall after she screamed that the husband only acknowledged their daughter.
The two are said to be separated. She sought the Bungoma woman rep seat under Maendeleo Chap Chap and campaigned against Wangamati's Ford-K party.
After finishing his speech, Wangamati invited the incoming deputy to speak to the audience comprising of professionals and members of the business community.
The governor then introduced his wife Caro Wangamati and his children who joined him to the main dais.
He then asked Kibanani to introduce his family but the latter was only accompanied by his daughter, to the ire of his wife who was surrounded by four guards.
As the husband introduced their daughter, she screamed but was held down by the guards who blocked her.
"You are breaking my ribs. Why are you hurting me? Please leave me alone," she said as the security men dragged her out of the hall into the dark.
Nangekhe, who lost the August 8 elections, however, refuted claims that they are separated with Kibanani.
She is a former manager at the Nzoia Sugar Company.
Nangekhe said she was surprised that the security attached to Wangamati and her husband mishandled her yet she had been invited to the event.
"I had officially been invited by my husband. I don't know who was behind all that happened." They injured me," she said on Saturday.
Kellan Wavomba, a Bungoma women activist, condemned the incident calling on Kibanani to come out openly and give his word on the same.
"We are surprised that even before they are sworn-in, they are exhibiting total dictatorship and no respect for women and family values."
She said that even if Kibanani had differences with the wife, it was evil for him to use his bouncers to rough her up.
"I am going to lead women of this county in protests because of that issue. That behaviour was archaic," she said.
She rebuked Bungoma woman rep Catherine Wambilianga for seating and watching while a woman was assaulted.
Kibanani did not pick calls or answer messages regarding the incident.
Wangamati and Ngome are slated to be sworn-in on Tuesday at the Masinde Muliro stadium.
-the-star.co.ke