The good, the bad and the ugly of seven years under new Constitution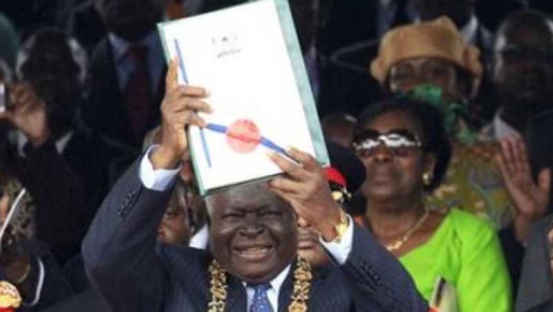 After decades of searching, a quest for which several Kenyans paid with their lives, the country finally got a new Constitution on August 27, 2010. With opinion sharply divided on whether Kenya is the better with the new laws, we take a look back at the moment former President Mwai Kibaki lifted it aloft at Uhuru Park, the very moment that heralded the dawn for a new Kenya.
At Uhuru Park grounds seven years ago on this date, Kenyans were exuberant, united and full of hope for the Constitution they were promulgating on that day. A united leadership from across the political schisms showed up at the historic grounds, each cheered in equal measure by boisterous crowds.
The chill of that August day was livened by raptures of the crowds, smiles of the leaders, the dance of former First Lady, the late Lucy Kibaki, and the jokes of former Prime Minister Raila Odinga.
The burst of the 21 gun salute sealed it all while the release of white doves by former President Mwai Kibaki signaled new beginnings. A new Kenya was born right in our eyes and the past buried. But seven years down the line, the old fears are creeping back in torrents. The nation is bereft of the joys and hopes it acquired. The fresh national ethos evoked by the new Constitution appears to have dissipated into thin air. "If you were a stranger in Kenya, you wouldn't believe that seven years ago we promulgated a new Constitution. Now we are in similar situation, if not worse, as where we were. I say worse because in the Kanu days, the violations witnessed were actually allowed in law, but here we find a situation where blatant violations of what is clearly outlawed are taking place," women rights activist Daisy Amdany says. A nation is once again at a cross roads of fear, suspicion and division. Institutions have grown weak, porous and susceptible. Nationhood has never been more threatened, and for the first time since independence, talk of secession has captured national psyche and attention. And the most tragic thing is that everyone seems to be taking it all lying down. There's no palpable national discourse on where we went wrong as a people. The train is hurtling to the next station, rudderless, directionless and mindless. "On the contrary, we have done very well as a country despite a number of challenges. Implementation of such a broad-based Constitution as ours is never a walk in the park. In our self-loath and sometimes cynical outlook, it is easy to forget that things could have been much worse," President Uhuru Kenyatta's advisor on Constitutional affairs Abdikadir Mohamed says. Only by imagining a failed Constitutional process in 2010, he says, can we begin to appreciate where we have come as a people and to appreciate the exponential growth across all pillars of our society. For Constitutional law scholar and chair of the Bomas Constitutional Conference of 2004, Prof Yash Pal Ghai, the Jubilee administration has led from the front in violating the tenets of the Constitution and making a mockery of all that it stands for. "President Kenyatta has committed several grievous violations of the Constitution. On the one hand he grossly exceeded his powers — I have pointed this out several times in my newspaper and scholarly articles — on the other, he has grievously ignored his Constitutional obligations, such as protection of human rights, promotion of national unity, respect of the rule of law and obstructing devolution. When the President does not respect the Constitution, its implementation is exceedingly difficult," Ghai says. Sunday Standard takes a look at the promise of a new Kenya heralded by the new law that August morning and where we are as a country in fulfilling them. 1. Nation building and cohesion The promise of the 2010 Constitution as espoused in the preamble was to build a country proud of its "ethnic, cultural and religious diversity determined to live in peace and unity as one indivisible sovereign nation." The national values of patriotism, national unity, social justice and democracy, rule of law, non-discrimination, good governance and integrity in leadership were supposed to be entrenched in implementation of public policy decisions and in enacting, applying or interpreting any law, including the Constitution itself. After two highly divisive elections in 2013 and 2017, half the country is pulling in a different direction as the other half trudges to another. There is no clear or credible effort from whichever quarters to stop this disparate pull. National democratic processes have retained the same ethnic and regional appeals and tend to leave the country more wounded. There is more talk of right to self-determination than there is of how Kenyan communities can cohere together.
Source link-standardmedia.co.ke